EveLab 1.0: the "Circuit Trainer" for Your Raspberry Pi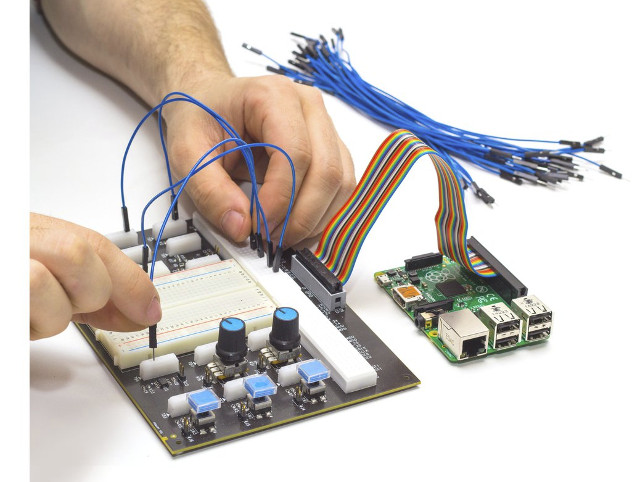 EveLab 1.0 is an advanced breakout board designed for the Raspberry Pi's GPIO.
It was initially born as a circuit trainer for the University of Guelph students to wire projects with the Pi, so it looks perfect for an educational environment or for learning new skills.
The developer has now started selling the hardware, and called it EveLab 1.0.
This breadboard system has a high-quality connector for the Pi header, which breaks each pin out onto a long breadboard, with each output clearly labeled. Below this is a standard breadboard, and to either side of that you'll find potentiometers, switches, LEDs, and even an RGB LED that are all pre-grounded for easy setup. There's also an analog to digital converter, a light sensor, and temperature sensor for your experimental needs.

On the board you will find:
3 x LEDs (pre-grounded)
3 x Momentary Switch (pre-grounded)
2 x Potentiometers (pre-grounded)
1 x RGB LED (pre-grounded)
1 X Analog to digital converter (2-inputs pre wired)
1 x Light Sensor
1 X Temperature Sensor
Extras:
2 X GPIO ribbon cables (to connect to various Pi models)
20 x Jumper cables