Advertise with Open Electronics
Active since 2010, more than 825'000 people today on our Facebook page, Open Electronics became a reference for the open source hardware hackers and makers. Open Electronics was born as a brainchild of Futura Group Srl, a world leader in hobby electronics, pushing stronger on the open source products, software and policies.
In those years, we launched many projects collaborating with the worldwide community of hardware designers and makers interacting in a very open way. We manage to build a strong core of experts orbiting around our website, our Facebook and Twitter community.
We've developed many products, like the 3Drag printer and its latest evolution, the 3Drag Choco, an amazing choco-ink 3D printing machine. On the blog we have hosted many open source hardware products that you can see here. We focused for a long time on Arduino and Raspberry Pi, being among the firsts to understand that the two boards can show their maximum potential when "put together": that's why we developed the RandA board. RandA stands for "Raspberry Pi and Arduino" and it's the most efficient solution to set an interaction between the powerful computing board with the world most famous microcontroller.
We developed a co-engineered prototyping board named Fishino, the "swiss army knife" of IoT: WiFI, RTC, Sd Card as a storage, Arduino compatible and now 32-bit capable.
We took in really high consideration our active community of contributors, it's thanks to them that we found the energy and motivation to do so many things so far. To thank them and to show how much we care, this year we have made the decision to deliver a contests platform dedicated to open source hardware projects!
Now, if you are a company active in the open source world, if your core activity is on hardware, 3d printing, prototyping, hardware enthusiasts and hobbyists supplier, drones, automation, you can help us carry on the website and the community by funding us through advertising.
Here are some figures showing our reach over the open source hardware community:
THE SITE
Open Source Electronics is the brainchild of a world
leader in hobby electronics Futura Group srl
>900K
MONTHLY VISUALIZATIONS
>250K
(86% New – 14% Returning)
VISITORS
THE COMMUNITY
Open Source Electronics is not just a container of
ideas: it is also a web site lead by a team of engineers
and geeks who will take part in the discussions and
give support. Our mission is to become a reference
Open Source hacking site with ideas and feedback
aimed to enrich the community.
>800K Facebook
 >88K Twitter
THE AUDIENCE
Open Source Electronics is devoted to support
development, hacking and playing with electronics:
we share exciting open projects and create amazing products!
85% Male | 15% Female
23% Age 18-24  |  30% Age 25-34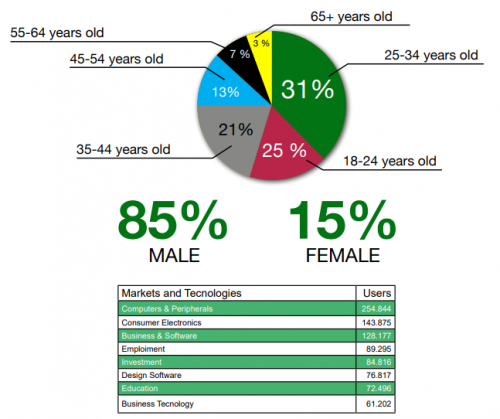 We have several options you can be interested in:
Your logo on our website, with three options
A post showing your product/service in detail
A link about one of your products or services
Personalized Contests on our contests platform dedicated to open projects
For all the detailed offerings you can download the media kit if you are interested in advertising your activity on Open Electronics.
To get in touch with us or if you want a customised offer, you can write us using the Contact Form.