Olimex Has Revealed Its New Open Spec Allwinner A64 Hacker Board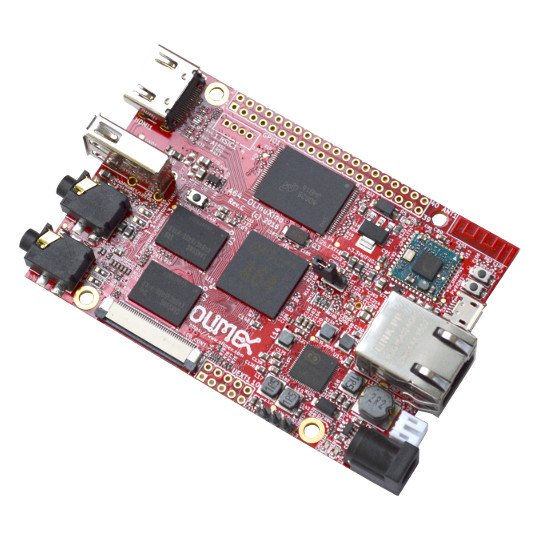 The A64-OLinuXino is an open source hardware board that runs Linux and Android.
It is Olimex's first 64-bit ARMv8 OlinuXino board and the first to be designed entirely with open source CAD software (KiCad).
The A64-OLinuXino is currently available in a 50-Euro A64-OLinuXino-1G4GW model with 1GB RAM, 4GB eMMC, WiFi, and Bluetooth. It's also available in other two different versions, a lower-end model without flash or wireless, or a higher-end model with 2GB RAM, 16GB flash, and industrial temperature support, but no wireless:
A64-OLinuXino-1G0G — 40 Euros ($45) — 1GB RAM
A64-OLinuXino-1G4GW — 50 Euros ($56) — 1GB RAM, 4GB eMMC, WiFi, Bluetooth
A64-OLinuXino-2G16G-IND — 75 Euros ($84) — 2GB RAM, 16GB eMMC, -40 to 85°C
The three A64-OLinuXino models all provide a GbE port, as well as microSD slot and USB host and micro-USB OTG ports. There's an HDMI port, as well as a MIPI-DSI connector. An LCD interface is accessible via the 40-pin GPIO connector, which also includes MIPI-CSI, but is not claimed to be Raspberry Pi compatible.

Specifications listed for the A64-OLinuXino-1G4GW include:
Processor — Allwinner A64 (4x Cortex-A53 @ 1.2GHz); ARM Mali-400 MP2 GPU
Memory/storage:

1GB DDR3L RAM (2GB on 2G16G-IND model)
4GB eMMC (none on 1G0G model, 16GB on 2G16G-IND)
MicroSD slot (up to 32GB)
Optional SPI flash in SO8 package with hardware WP (not assembled)

Wireless — WiFi and Bluetooth 4.2 (none on 1G0G or 2G16G-IND); antenna
Networking — 10/100/1000Mbps Ethernet port
Multimedia:

HDMI port
MIPI DSI on 20-pin ribbon connector
LCD interface on 40-pin ribbon cable
3.5mm audio input and output jacks

Other I/O:

USB 2.0 host port
Micro-USB 2.0 OTG port
USB headers
GPIO 40-pin connector with CSI, GPIO, etc.
UEXT 10-pin connector (not assembled)
Debug UART header (TTL level)

Other features — power, battery, and user LEDs; U-Boot, reset, and power buttons; RTC; 4x mounting holes
Power — 5V DC jack; 3.7V LiPo battery connector, step-up, and charging support
Operating temperature — commercial range except for 2G16G-IND model with -40 to 85°C
Dimensions — 90.0 x 62.5mm
Operating systems — Linux and Android