Teres-A64 Laptop kit: Now Available the Open Source Linux Laptop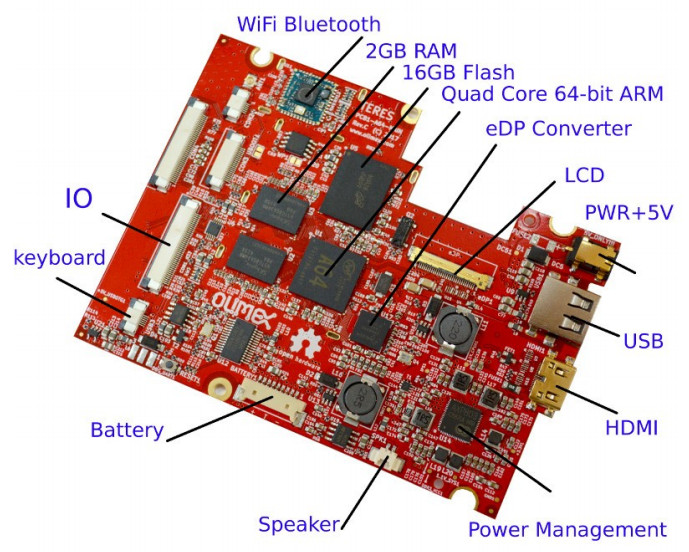 Bulgaria-based Olimex, which is known for its open spec OLinuXino SBCs like the Allwinner A64 based A64-OLinuXino, is shipping its open source, Alwinner A64 based Teres-A64 laptop kit, with an 11.6-in LCD, 2GB RAM, 16GB eMMC, 9500mAh battery, and an Ubuntu Mate OS.
Instead of using the A64-OLinuXino SBC, Olimex designed a custom, irregularly shaped mainboard that supports modular PCB daughterboards. These currently include an I/O board, keyboard controller, and touch buttons board, which are part of the standard package. In addition to the FPGA module, there are plans for digital storage options and other add-ons. Olimex also plans to eventually release new processor boards with the same form factor to extend the life of the laptop.
Since this is an open source laptop with open schematics and hardware CAD files, you can also customize add-on boards, build your own, or design your own Teres laptop. Linux build scripts are posted on GitHub.
The Allwinner A64 SoC has four 64-bit, Cortex-A53 cores, accompanied by a Mali-400 GPU. No clock rate is listed, but the SoC usually goes to 1.2GHz. The 11.6-inch, 1366 x 768-pixel eDP LCD display is supported with a touchpad module that is exposed within the separate keyboard.
The Teres-A64 is further equipped with WiFi (150Mb) and Bluetooth LE 4.0, as well as an antenna. You get mini-HDMI and USB host ports, and battery management. A separate I/O board adds a second USB host port, an audio output, a speaker connector, and a microSD slot.

There's also a camera board, dual speaker modules, and various buttons, LEDs, screws, hinges, and cables. Available in white or black for 240€ ($284), the laptop will ship with Ubuntu 16.04 LTS with Mate, Firefox browser, video player, Open Office, Arduino IDE, and IceStorm for FPGA development.