Interview to Richard Curtin (Premier Farnell): micro:bit, Codebug, IBM IoT Learner Kit
We had the pleasure to interview Richard Curtin (Global Director of Strategic Alliance, Premier Farnell).
We asked him how micro:bit, codebug and Farnell initiatives will help young makers.

Landoni Boris: Farnell element14, the "Development Distributor"… many of your press releases start with this self-definition. What do you mean with "Development Distributor"?
Richard Curtin: Being the 'The Development Distributor' is about the support we give to design engineers, maintenance and test engineers, makers, parents, teachers and children to develop themselves, our future generation of coders and products and businesses that apply technology to change this world for the better.  
We are a partner too in customers' development. We're for the inspired engineer, the maintenance hero, the ingenious hobbyist and the steadfast buyer:
We help them develop their skills and knowledge by providing them with technical support and expertise through our Design Centre and providing a forum where they can discuss ideas and find support from 440,000 other likeminded engineers on our element14 community.
We help them develop their products and business by providing a solution to all their needs from product to custom SBC to software. In doing so, we support our customers through every phase of the customer's journey… from education to maker, research and design and production, and now we will support volume production with the partnership of Avnet.

Our Bench to Board proposition supports customers from test through to maintenance, helping them keep their businesses running, and constantly developing.
Landoni Boris: Farnell element14 is the exclusive producer of educational programming boards. Why did you choose to combine those products distributed with this series of products developed by you?

Richard Curtin: Students are the engineers of the future and as the Development Distributor we are committed to developing young people in the world of coding and enhancing the maker community by offering the latest development tools and software products.
With the combination of our exclusively manufactured boards such as the BBC micro:bit and Codebug, and successful manufacturing partnerships with Raspberry Pi and BeagleBoard, we aim to offer the greatest range of educational boards in the market.
Our range of boards is just the start, we also provide guidance and support through online resources available from the STEM Academy and the widely used element14 Community which has over 440,000 members and is the largest forum of its kind in the engineering and maker community.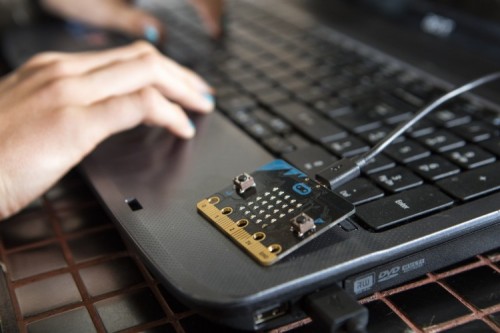 Landoni Boris: How do you explain this success in the Maker and Education field?
Richard Curtin: The element14 Community success is down to its 440,000 strong members made up of makers and professionals across the globe who share and collaborate information and ideas. Through our regular design challenges and product road tests, we are able to give our members early access to the latest technology and facilitate a wide variety of independent projects and research initiatives. For this reason, the element14 Community has become the largest online resource for makers and educators working in engineering and electronics.
Landoni Boris: With the board BBC Micro: bits and Codebug you want to reach young Makers, is that it?
Richard Curtin: The BBC micro:bit and Codebug are both coding devices that introduce children to the world of coding, supporting their learning in school, and providing them with fun ideas to work on at home. BBC micro:bit is a pocket-sized programmable device that can be coded and controlled to bring ideas, games, and projects to life. It is great for young people just starting out in making and has been designed specifically to be easy to use with a supporting microsite for uploading projects and solving problems www.microbit.org.
The CodeBug differs from the BBC micro:bit in shape – it looks like a ladybird and can be made to look even more like the 'bug' by using the accompanying case that is also available. This makes it particularly attractive to younger children. It has 25 LED lights in a 5-by-5 grid, two buttons for interaction and six 'legs' that can be used to connect croc-clips, banana plugs or even sewn to. These legs can be used as inputs or outputs and can even sense an electric current passing through (or generated by) your body. Again a microsite is available for children to upload projects and problem solve at www.codebug.org.uk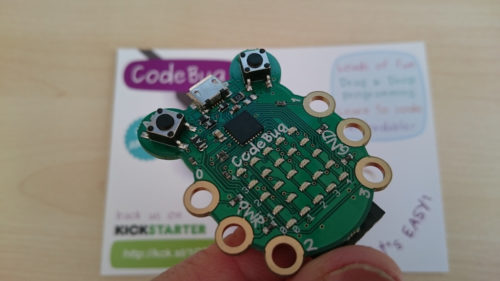 Landoni Boris: How was born the collaboration with the BBC? Who else was in the project?
Richard Curtin: In July 2015 the BBC unveiled the design of the BBC micro:bit, part of the BBC's Make it Digital initiative to produce one million BBC micro:bit to be gifted to each Year 7 (approximately age 10-11) aged children in the UK.
Premier Farnell signed a partnership agreement with the BBC in May 2015, after an introduction from our partners at ARM Holdings, who were one of the first external companies to get involved with the BBC micro:bit initiative. Operating on a not-for-profit basis, Premier Farnell were closely involved with design optimisation, manufacturing and logistics for the project, in addition to helping to ensure the device could be produced at a sustainable cost, leveraging our proven expertise in managing similar projects designing and manufacturing development kits.
There are many leading global electronics brands involved in the BBC micro:bit initiative.  Premier Farnell worked particularly closely with NXP – whose microprocessor and sensing solutions are featured in the device, Nordic Semiconductor – who provided wireless and Bluetooth functionality, ARM – who developed the embedded technology featured on the device, and Microsoft – who created the web environment which supports the BBC micro:bit website.
More recently, Premier Farnell have signed an agreement with the Micro:bit Foundation, which is seeking to replicate the programme with the BBC with educational institutions globally. Premier Farnell is the exclusive manufacturer of the BBC micro:bit and are now talking to educational groups worldwide to support coding across the globe.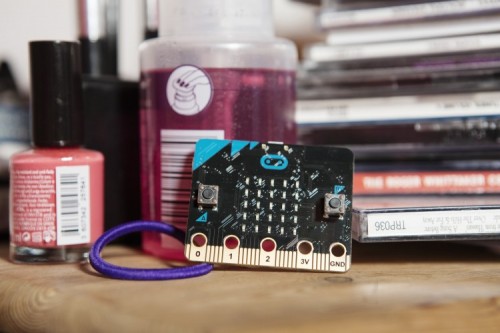 Landoni Boris: The Bluetooth makes the micro:bit a device "connected". Do you consider that this integration with smartphones and portable devices like smartwatch will become increasingly widespread in the future?
Richard Curtin: This increase in demand for connected devices means that designers have key decisions to make to ensure optimum connectivity, which includes a decision about which wireless communication protocol to use. With so much data sharing taking place, designers really only have a choice between using WiFi (upto 1Gbps) and Bluetooth (up to 25Mbps). As power consumption is a big factor, particularly with wearables, designers will opt for Bluetooth. BBC micro:bit uses Bluetooth connectivity to make devices portable and programmable on-the-go, from anywhere anytime using any mobile device, such phones and tablets which only have Bluetooth. This also means that the BBC micro:bit can be used by children anywhere – as a compass, a pedometer or even a speedometer.
A range of accessories have been released for BBC micro:bit, including a power pack to make the device even more portable and wearable, plus an official BBC micro:bit case and special bundle kits that incorporate a wider variety of technologies, making more complex projects such as robotics and IoT sensing solutions accessible out of the box. This is a highly connected device and I do see integration with smart phones and devices becoming increasingly widespread in future.
Landoni Boris: With IBM you have launched the IoT Learner Kit. What can you tell us of this kit? Who is it for?
Richard Curtin: The IBM IoT Learner Kit makes it easy to model, simulate, and analyse fun projects such as a personal weather station or a face-detecting robot. The IBM IoT Learner Kit was designed to allow the user to implement this powerful platform on the popular, low-cost Raspberry Pi 3 single board computer. The kit is aimed at hobbyists and students with an understanding of coding looking to develop their skills further – applications expected in communications and networking as well as wireless. The online course material allows the user to develop important career skills using the same tools that professional engineers and scientists use every day, in self-paced study.
Landoni Boris: This kit is part of the teaching material of a course on Coursera, the e-learning platform that is collecting adhesions and participants worldwide. How do you see this "on line" education? Is it the future?
Richard Curtin: Absolutely, online education is the future, particularly for engineering. Online courses facilitate learning anywhere in the world at a pace to suit the individual. The proliferation of open-source applications utilises the cloud to facilitate rapid application development meaning anyone can take part. We are seeing more and more products supported by online learning modules, extending the reach of products far beyond our traditional markets.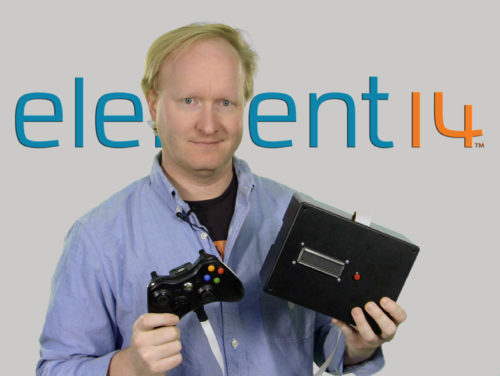 Landoni Boris: What other initiatives Farnell element14 will provides for designers of today and the future?
Richard Curtin: In addition to the STEM Academy on the element14 Community, Farnell element14 sponsors Startupbootcamp IoT – part of the family of 17 industry-focussed programmes that support startups with direct access to an international network of the most relevant mentors, partners and investors to help them scale globally. Farnell element14 also exclusively sponsors 'the Ben Heck show', an online video series featuring master hacker, engineer and tech hobbyist Ben Heck. The show has had over 37 million video views and has over half a million followers across the globe.
Thank you Richard for you time.