How To Convert Your Raspberry Pi to a Smart Remote Control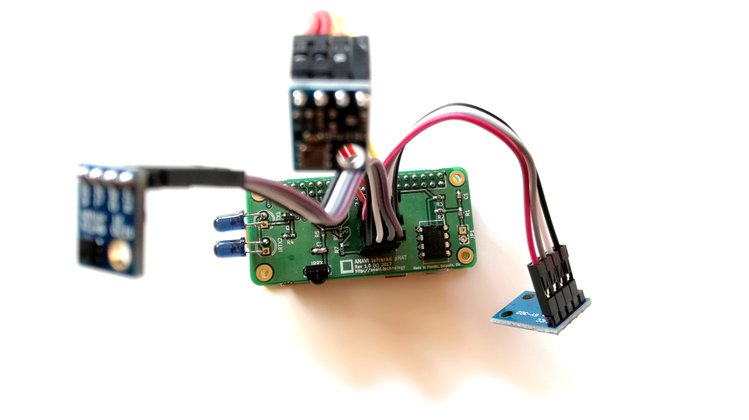 The Anavi Infrared pHAT is designed for creating IR-controller IoT devices, or retrofitting existing consumer electronic equipment or appliances such as air conditioners to be controlled with a standard TV remote control. Since the add-on board provides dual 5mm IR transmitters in addition to an IR receiver, it can also be used to create a custom remote control for your TV, stereo, and other devices.
The pHAT form factor is designed to fit perfectly over a low-cost, 65 x 30mm Raspberry Pi Zero or Zero W. It can also work with Raspberry Pi 3, 2, B+, or A+ SBCs.
The Anavi Infrared pHAT is open source in both hardware and software, and is available with schematics and PCB design files. Open source Python and C code samples are also available. The board is well-suited for integration with the Linux Infrared Remote Control.
The board is designed to support up to three sensor I2C-driven add-ons, made available with a series of kit bundles that also include the pHAT:

• Starter — $27 — temp/humidity (HTU21D) sensor
• Advanced — $37 — temp/humidity, barometric pressure (BMP180), light (BH1750) sensors
• Developer — $47 — temp/humidity, barometric pressure, light sensors; mini remote control; USB-to-serial debug cable
• Combo — $63 — combines two Advanced kits
• Family — $119 — combines a Developer kit with two Advanced kits
More information may be found on the Anavi Infrared pHAT Crowd Supply page.