uArm Swift, your open-source robotic assistant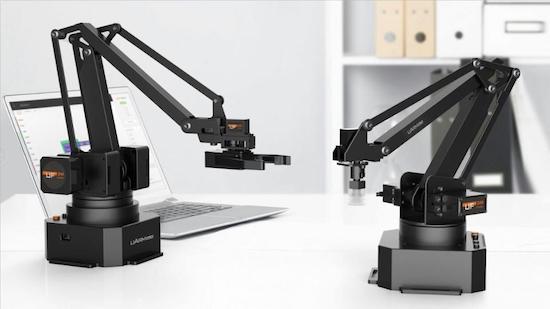 The uArm Swift is an open-source robotic assistant for your desktop. It's a smaller and sleeker version of the UFACTORY company's original device from 2014.
Based on an Arduino Mega, the robot is capable of lifting 500 grams (1.1 pounds) with a working range of 5 to 32 centimeters (2 to 12.6 inches).
UFACTORY has launched two different models of the consumer-friendly arm on Indiegogo. Whereas the basic model is perfect for beginners and those looking to tinker around with robotics, the Swift Pro is designed for a more experienced Maker crowd with a stronger motor, more precision, and greater versatility. It also boasts position repeatability down to 0.2mm. uArm Swift Pro moves quietly, smoothly and accurately enough to handle delicate tasks such as,
Drawing,
Laser engraving,
Light painting.
You can even create your own actions through the team's Blockly-based graphical software, uArm Studio, as well as control your Swift either directly from a keyboard-and-mouse setup, by making gestures, or over Bluetooth from the uArm Play mobile app.
Combined with Open MV Cam, uArm Swift and uArm Swift Pro will be much more intelligent to finish complex tasks.

uArm Swift and uArm Swift Pro are open sourced robotic arms, so there's no limit to your creativity!