The newest low-cost Rpi 3 Clone Offers Allwinner H2+, H3, or 64-bit H5 SoCs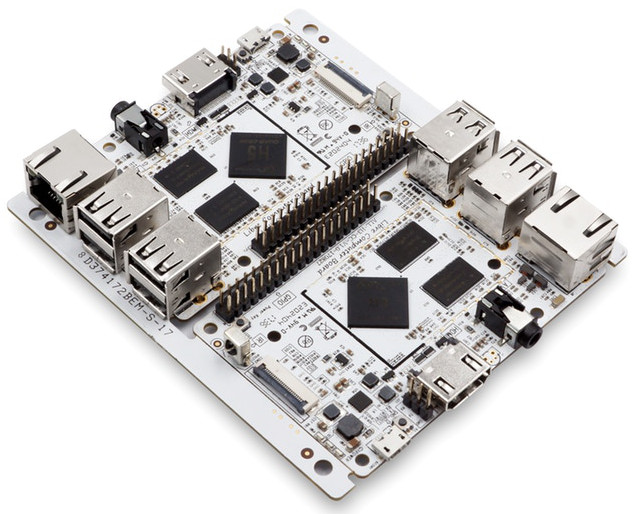 Libre Computer is now on Kickstarter to launch a new hacker SBC with a Raspberry 3-like form factor, layout, and 40-pin expansion interface: The Tritium.
It's available in packages of $9, $19, or $29, depending on whether you want it configured with the Allwinner H2+, Allwinner H3, or Allwinner H5.
This is an open hardware and software project with support for Ubuntu 16.04 and Android 7.1 Nougat
The Tritium packages are as follows:
Tritium IoT — $9 or $39 (Basic Kit) or $59 (Complete) — Allwinner H2+, Mali-400 MP2, 512MB DDR3, 1080p@60, Linux only
Tritium 1GB — $19 or $49 (Basic Kit) or $79 (Complete) — Allwinner H3, Mali-400 MP2, 1GB DDR3, 4K@30, Linux/Android 7.0
Tritium 2GB — $29 or $59 (Basic Kit) or $99 (Complete) — Allwinner H5, Mali-450 MP4, 2GB DDR3, 4K@30, Linux/Android 7.1
The Basic Kit package adds 8GB eMMC 4.x, a push-pin heatsink with thermal tape, a 5.1V 2.5A micro-USB supply, and an active cooling media center polycarbonate case.
The Complete Kit adds an 8GB microSD card, an HDMI cable, and a GenBasic Omni wireless RF remote with mini keyboard and touchpad.

Both the Allwinner H2+ and Allwinner H3 are 1.2GHz, quad-core, Cortex-A7 SoCs. However, the H2+ tops out at HD resolution while the H3 can generate 4K video. The Allwinner H5 moves up to four Cortex-A53 cores, and has a more powerful Mali-450 MP2 GPU and cryptographic acceleration.
Tritium specifications include:
Processor — Allwinner H2+/H3 SoC (4x ARM Cortex-A7 cores; ARM Mali-400 MP2 GPU) or Allwinner H5 SoC (4x ARM Cortex-A53 cores; ARM Mali-450 MP4 GPU)
RAM — up to 2GB DDR3 SDRAM
Storage:

MicroSD slot
eMMC 4.x interface

Multimedia:

HDMI 1.4 with HDCP 1.2
3.5mm TRRS AV jack

Networking — 10/100 Ethernet
Other I/O:

4x USB 2.0 Type A ports
IR Receiver
UART (header)

Expansion — 40-pin RPi 3 Model B style header (PWM, I2C, SPI, GPIO)
Power — 5V DC input via Micro-USB connector
Other features — U-Boot button
Operating system — Linux 4.16+/3.4, Debian 9, Ubuntu 16.04, Android Nougat