STMicro STEVAL-FKI001V1: IoT Development Kit to Facilitate Smart Device Connections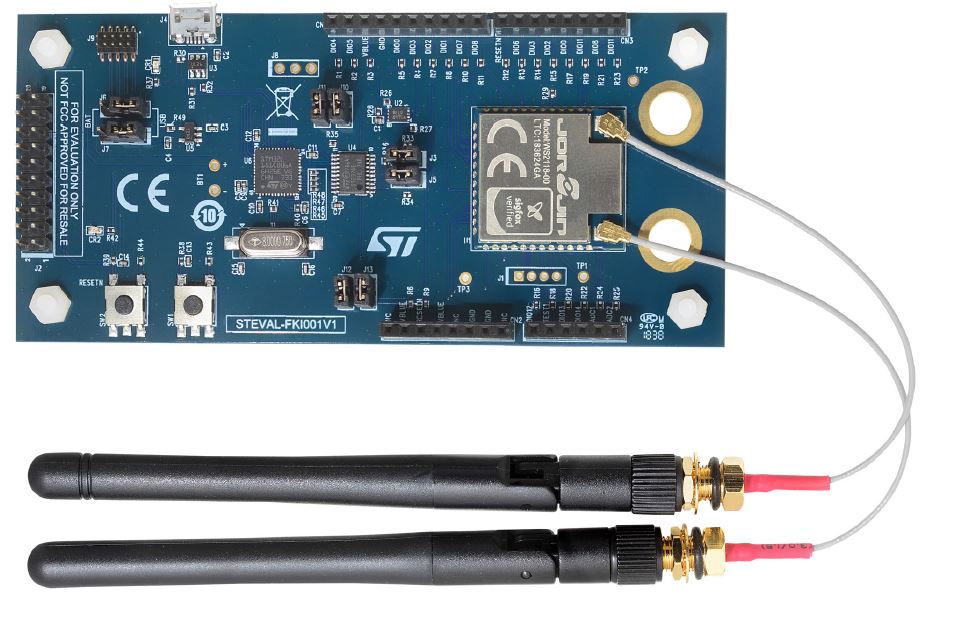 By supporting concurrent communication over Bluetooth Low Energy (BLE) and Sub-1GHz wireless, the STMicroelectronics STEVAL-FKI001V1 dual-radio development kit gives unrivaled flexibility to envision, build and connect IoT devices like smart sensors, finders and trackers which can be configured, updated, remotely monitored and tracked using various network topologies, protocols and services.
The Kit integrates two radios, one at 2.4 GHz for Bluetooth Low Energy (BLE), and another sub-GHz radio for LPWAN IoT standards such as Sigfox.
The IoT Development Kit can readily be expanded through its Arduino™ Uno V3 connectors with the vast and comprehensive ST X-NUCLEO offering, including expansion boards with MEMS sensors, motor control, GNSS receivers or industrial input/output and power drivers.
The board is open source hardware and you'll find software and hardware resources on the product page.

STEVAL-FKI001V1 devkit key features & specifications:
Jorjin WS2118-00 Sigfox & BLE module

Embedded BlueNRG-132 Bluetooth LE Arm Cortex-M0 SoC with up to +8 dBm BLE RF output power, receiver sensitivity of -88 dBm
Embedded S2-LPQTR ultra-low power sub-1 GHz transceiver tuned for 826-958 MHz frequency bands

Up to +16 dBm sub-1GHz RF output power, receiver sensitivity down to -130 dBm
Modulation schemes: 2-(G)FSK, 4-(G)FSK, OOK, and ASK
Air data rate from 0.1 to 500 kbps
Ultra-low power consumption: 7 mA RX, 10 mA TX @ +10 dBm; low duty cycle RX/TX operation mode, automatic acknowledgement, retransmission, and timeout protocol engine

BALF-NRG-01D3 50 Ω integrated balun, matching network and harmonics filter companion device of BlueNRG-1
Supply voltage range – 2.0 to 3.6 V
Dimensions – 24 x 22 x 2.8 mm
Temperature range – -40 °C to +85 °C
FL RF interface connectors

USB – 1x micro USB interface for power and programming
Expansion – Arduino Uno V3 connectors
Debugging – JTAG debug connectors
Certifications – RoHS compliant and China RoHS compliant, CE, WEEE