Smartipi Twist: Raspberry Pi Zero on a Stick!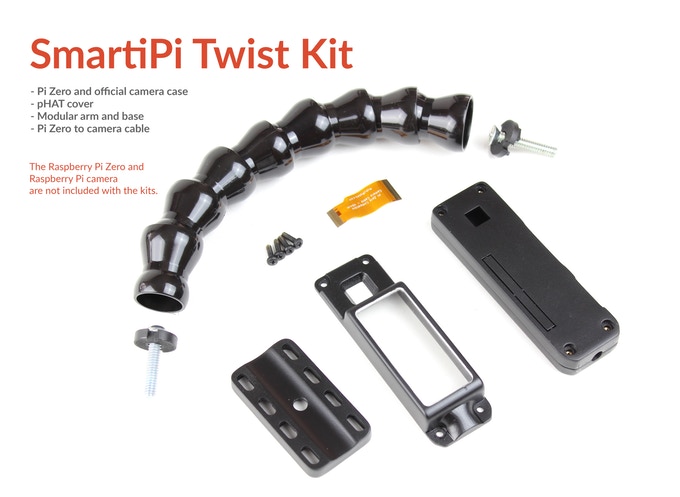 "The SmartiPi Twist is a flexible arm and case that holds a Raspberry Pi Zero ( all versions), official Raspberry Pi camera ( all versions), and Pi zero pHATs (HATs that are the size of a Pi Zero). Both the standard Raspberry Pi camera and Raspberry Pi IR (infrared light) night vision camera will fit in the case. The arm can be lengthened and shortened by removing the sections by hand. The arm includes a base that can attach to a flat surface. Your power and usb cables can run down the center. The included pHAT cover will a clear window will allow you to add pHATs to add light to your scene if wish."
Equipped with a poseable, adjustable arm the aptly named SmartiPi Twist Raspberry Pi camera case is now available to back from $20 and allows you to create a wide variety of different applications such as a camera for your 3D printer, complete with its own light source.
The base has a hole in the center that the arm attaches to. The mounting holes on the side allow for screwing to a surface.It can also be attached to a surface with double sided tape.
Eight arm sections come with the kit, but extra sections will be available after the campaign for purchase. Extra sections allow for even more flexibility but they recommend not to exceed twenty sections if the arm is to be positioned horizontally.

The SmartiPi Twist is the ultimate Octoprint case. It allows you to position the Pi camera to monitor your 3D prints while also managing power and USB cables. The arm can be attached to the included base in a perpendicular orientation and also a parallel orientation
Jump over to the official Kickstarter campaign page for a full list of all available pledges and specifications.