Open Source Robots to use Open Wheels project to help hospitalised children
By
Staff
on February 6, 2015
Everybody loves a visit to the zoo. And for a kid it can be an especially magical experience. But if you're hospitalised, a trip out is easier said than done. For some children, it's simply impossible.
The ambitious Robots for Good project, an initiative by London based Wevolver, is going to change this.
Giving hospitalized kids super powers
In collaboration with Inmoov, the open-source 3D printed robot and Open Electronics, Robots for Good are building a human-size robot that children from Great Ormond's Street, the UK's largest children's hospital, can use to visit London Zoo.
The robot will be connected to an virtual reality, giving the child a fully-immersive, 360º view of the world through the eyes of the robot. The first prototype will be operated using a game controller and will allow the child to go to the zoo with their family and friends, talk and listen to them and even touch the animals. All by using the body of the robot as their personal avatar.

The long-term vision is that the kids can control the robot through Microsoft Kinect technology, so the robot will fully mimic their movement, making it an even more immersive and rewarding experience. In other words, it will give hospitalised children superpowers.
The coolest part is that the robot will be based on the open-source Inmoov project by Gael Langevin combined with our …Open Wheels!
Combining the 3D printed robot with the fully hackable wheels and virtual reality glasses, sick kids can visit the zoo without leaving their beds.
Inspiring future makers
The robot will be built in schools in London in collaboration with local maker spaces. It is a great way to get young people excited about technology whilst also doing good. The current goal is to have a completed robot ready to drive around the zoo in less than a year.

Because of the open nature of this project the robot will evolve and improve with every iteration. All the files and blueprints are already available on the Wevolver platform. You can also go there to follow this project and get all the latest updates!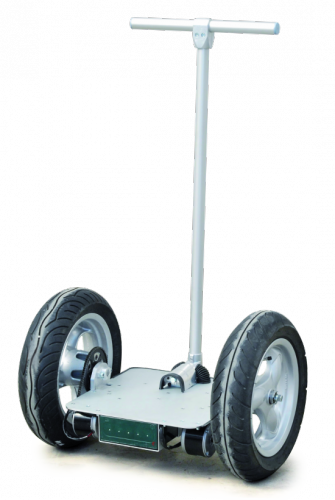 "We're beginning the initial pilot in London" says Richard Hulskes, co-founder of Wevolver. But we're also talking to other hospitals and exploring a worldwide network."
Realising the potential of collaboration
"It's a great way to show the whole world what happens when people aren't bound by patents," Richard continued, "but instead are free to collaborate to achieve something beautiful. From the moment we first revealed our plans, makers, businesses and organisations were lining up to collaborate. Pretty soon, a sick child in London will be able to visit a zoo in New York or even Africa thanks to this robot!"
It proves that if you mix open technology with imagination anything can happen.
Go check out the project on the Robots for Good website.
About Wevolver:
Wevolver is a web platform that connects makers to open hardware for collaboration. Their mission is to empower makers to turn their ideas into reality and make complex technology accessible to a broad audience. Right now they are onboarding some great projects like open source 3D printers, drones and even an open source racing car.