Open Electronics: a Year in Review
Late January is finally time to make a little bit of history about the 2013 of Open Electronics: a big year for us, that started with a complete redesign of the website and went through a lot of content shared with some big hits!
As just said, and as you may recall, early in 2013 Open Electronics released its new look and feel  and, in parallel, launched a brand new content strategy. Following this, the year has been full of open source projects presented for you to replicate and modify them; updates on our amazing all-open source products such as the almighty: here you can find all the posts 3Drag and the printer dedicated page here. Lastly you've been able to find deep opeds on Open Source Hardware and Electronics plus interviews to thought leaders and guest post coming from experts of the industry.
In terms of numbers, our blog accounted for almost One Million views in the last year: that's an amazing number for a blog that has such a special point of view and content. Many of our oped post were strongly discussed inside the industry and some of them are now linked as precious resources here and there.
Michel Bauwens also recently mentioned the effort we do in documenting Open Electronics and Open source Hardware as one of the best P2P projects of 2013: that was a great acknowledgment as it's coming from a guru of P2P, open source and all things collaborative, the world that we put as the target of our efforts.

Luckily enough, Bauwens was not the only guru that mentioned us earlier this year: Bruce Sterling as well covered our Open Source Hardware Best Of 2013 on Beyond the Beyond, his blog on Wired US, see the link here.
Many times,  we were also featured by our friends at OpenSource.com and Dangerous Prototypes, Hack a day and others republished our opeds very often. Some of the best oped we published this year, were indeed more targeted to be used as guides: do you remeber the one about picking your open source license consciously or that about using open source as a tactic to conquer new emerging markets.
Ironically enough, the busiest day on open electronics, a day that accounted around 10k views, was the one in which we released our Best of 2013 post: it was the day we celebrated 10 of the Most Incredible Open Source Hardware projects born in 2013 and this post got a incredible number of social shares: more than 1.1k!
Another list-post, that was highly appreciated and re-blogged here and there (such as from our fantastic friends at Shareable) was the one we dedicated to 10 Open Source Hardware project setting new standards, featuring projects ranging from furniture design to electronics.

The Best Projects!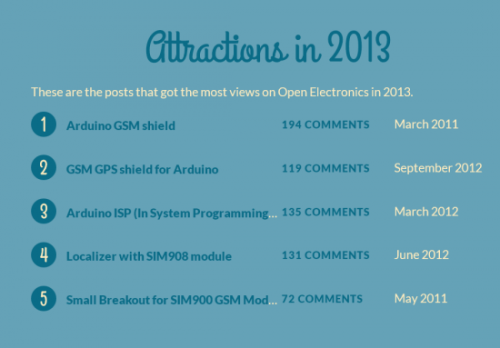 As well as the opeds, our Open Projects section was highly active in this year. Some of the open source projects we created and shared made big numbers this year and the ones that you liked more in 2013 are apparently the following:

Interestingly enough, the post you enjoyed reading the more during this year, have been all released during 2012 and 2011: good old boys. In fact, our GSM section and some other superb open projects were protagonist of the year and here you can find the list of the five that accounted for more visits:
The 3Drag/K8200 maturation
Another great pillar of 2013, were for sure the 3Drag updates. This year our 3Drag printer grew incredibly in numbers also thanks to the partnership we created with the british manufacturer Velleman, that basically adopted the product and branded K8200 helping us achieve the economies of scale making the 3Drag today one of the cheapest, fully open source, stable 3DPrinters around. This year we shared with an important update of the printer, with an advanced board we created, enabling a few other functionalities including autonomous printing.
You can find all the content related to the 3Drag here in this section and the product page is available here with all the links.
As you may recall, the 3Drag is fully open source at heart as we explained in this oped post and as you can see by yourself by navigating the content  available on reprap.org with all the sources.
This year was also the year we added great interviews to the content. We started the year pretty big by interviewing two "legends" of the open source hardware movement, Nathan Seidle from SparkFun and Limor Fried from Adafruit: these two interviews alone are super valuable for those working in open source hardware and maybe start thinking about creating a company. We know that's a hard thing and that's why we kept sharing with you success stories of people creating great products in the open: such as the story of dedication and passion of Yahya Tawil, doing hardware business in Syria, or the guys from Fabtotum, that succeed to create the most successful European crowdfunding campaign at the time with their record breaking numbers (the FABTOTUM, is expected to be available on the market later on this year, hopefully for the backers).
Other fantastic interviews followed and we more or less closed the year by covering the big news of Project Ara, the open source hardware phone, and interviewing the creator of Phonebloks – the dutch designer Dave Hakkens – that is now collaborating with the company to make the vision real.
Another interesting news of 2013 was the creation of the Submit page where all of you can now share news and projects with the staff. As for the news, you know we spent 2013 sharing daily news  about the electronics and digital fabrication industry on a daily basis: many people already took the chance to share news with us and see them featured on the official stream.
In the last few months we are also starting to get more and more projects and the publications are growing lately: check out the latest community project, that of a Lego CNC.
It's a pretty good chance for you to get featured: Open Electronics rocked on Facebook this year and now accounts for more than 100 thousand fans on Facebook. Despite we quadrupled our twitter following this year the numbers on the twitter channel are not as encouraging as we have on facebook, but our twitter follow is focused and interested in what we have to say, and this is demonstrated by the high level of interaction we have every time we share interesting content with you: it's easy to get to hundreds of social shares.
Thanks so much for all the support you've shown to Open Electronics: keep giving us this amazing feedbacks and check out on our store to see if our products might be interesting to you.
In the meanwhile, what's your best post of 2013 on Open Electronics? Have your say!