Meeblip open source synthesizers
By
Staff
on December 4, 2015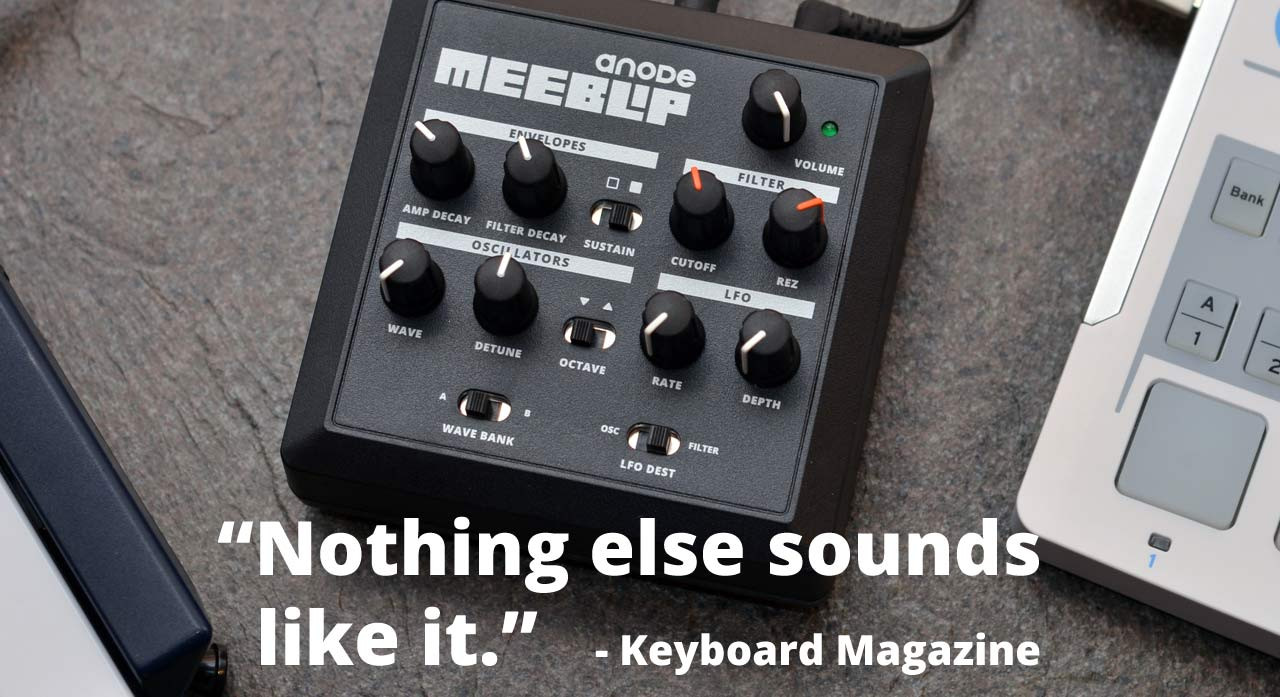 It's a tiny box, with enormous sound. It looks clean, but it'll get dirty. It's small and simple, but it packs possibilities that will surprise you. It's MeeBlip anode, the compact, award-winning monosynth. And without taking up much space or costing much money, it can add hands-on sound to any music making rig.
MeeBlip anode is a project of James Grahame (blipsonic) and Peter Kirn (CDM / createdigitalmusic.com). It's independently designed and manufactured, then hand-assembled and tested in Calgary, Canada before making its way to you.
Features are:
Analog Filter

Our aggressive Twin-T analog filter is unlike anything you've heard. It can be warm and sweet when you want it to be, or crank it up for over-the-top resonance and distortion.
Full MIDI Control

anode offers full MIDI control, including real-time tweaking of parameters using MIDI CC. It's perfect for live performance or as part of a sequencer-based rig.
Dual Digital Oscillators

You can detune anode's variable pulse oscillators for huge sounds. There's PWM sweep to add shimmer and even a hidden wavetable mode with 16 single cycle digital waveforms.

Free and open

The MeeBlip project is fully open source hardware. It's ready to play, no assembly or hacking required. But if you do want to learn how it works or modify it, you're free to do so. Circuits and code are all available via GitHub, and are covered by a permissive Creative Commons and GPLv3 license. That means MeeBlip is an electronic instrument that gives you complete freedom for the future.

Technical details

4″x4″ / 100mm x 100mm square case, rugged and road-ready | MIDI input (DIN) | 1/8″ audio output | Nine custom-made knobs, four vintage-style switches | 9V AC power (multi-volt adapter included) | Variable pulse width dual oscillators, sweep | Low frequency aliasing (for bass), high frequency anti-aliasing (for leads) Wavetable mode with 16 single-cycle waveforms | Dual envelopes (Limited Edition) with decay and sustain/release | Twin-T VCF with resonance | Glide | LFO, tuned, routable to filter or pitch | Detune up or down (augmented fifth)
Source: meeblip | Award winning open source synthesizers