Diskio Pi: the DIY Tablet Kit for Raspberry Pi Once Again on Kickstarter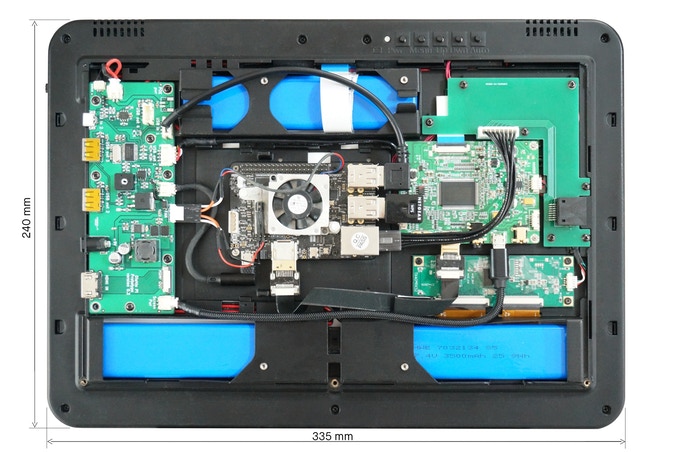 Last year we wrote about a DIY tablet kit for Raspberry Pi, ODROID-C2/XU4 and other compatible boards launched via Kickstarter: it was the modular and fully hackable hardware Diskio Pi project.
But unfortunately it failed likely due to the high costs: 350 Euros and up for early bird pledges without battery nor SBC and an elevated funding target of 400,000 Euros.
In the last year they worked on reducing costs, improved the design, and recently relaunched Diskio Pi on Kickstarter with a more achievable 52,096 Euros target, and reasonable pricing with rewards starting at 189 Euros including VAT.
Diskio Pi "basic" DIY tablet kit content and main specifications:

Display – Innolux 13.3″ TFT/IPS display with 1920×1080 resolution, WLED backlight + 10-point touch capacitive panel connected over USB 2.0
Video control board with HDMI 1.4 to eDP converter, stereo amplifier, and 2x 1W speakers
Daughter board with Genesys USB hub, 9V to 5V/4A buck converter, temperature control, HDMI external output
Ethernet and audio board with Ethernet jack and 3.5 stereo audio jack
Internal cables for  Raspberry Pi (1, 2, 3 B/B+ and Zero W, WH), Odroid-C1+, C2, including Ethernet & HDMI internals cables.
Internal ribbon cable & connector for external HDMI input
AC/DC power adapter with EU, UK or US cable1
Screws and a small screwdriver
ABS case without the stand, 2x racks plates & nylon spacers, IP20 rating
Assembly instructions
"Assemble the elements in 2 hours, choose your nano computer and place it in the machine. Diskio Pi is the most versatile touch device on the market.

Compatible with nano PCs up to 4Gb RAM
Can be used as an external touchscreen
Up to 13 hours of battery life with the battery option
Full hackable and upgradable"
Watch the demonstrative video below for more information.