Zynthian: "a swiss army knife of sound synthesis"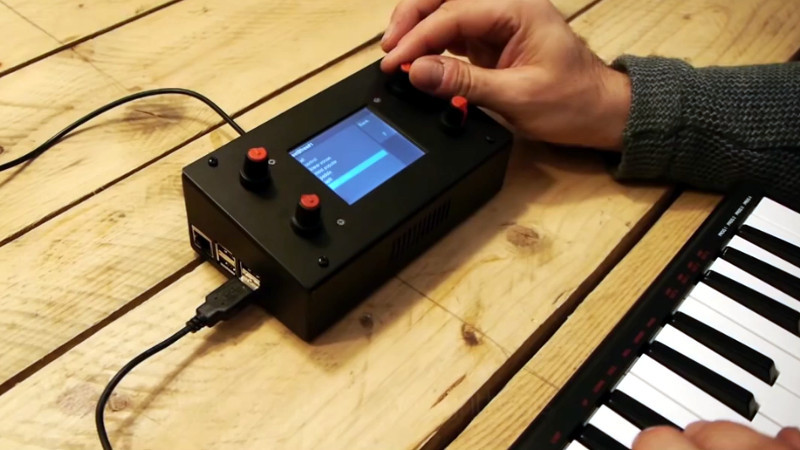 Zynthian is a new fully open source Raspberry Pi synthesiser which provides a new class of machine, equipped with multiple engines, filters and effects. It is completely configurable and upgradable and offers an open platform for Sound Synthesis based on the awesome Raspberry Pi SBC and Linux operating system making the synthesiser fully hackable.
Features of the Raspberry Pi synthesiser include :
– Multi-engine & multi-timbric architecture: Create sound layers combining different synth engines and presets, assigning it to different MIDI channels, or overlayed in a single one.
– 4 rotary encoders with switch and/or a touchscreen allows to navigate the menus and adjust parameters.
– 2D controller: Modify 2 parameters at once using the touchscreen (ala KaosPad).
– MIDI Learning: Easily assign your controller knobs/pads to the parameters you want to control.
– Global Tuning: You can change the tuning with a precission of Hz.
– Transposing: You can transpose each MIDI channel separately by the number of semitones you want.
– Master MIDI channel: The Master MIDI channel allows remote snapshot loading, etc.
– Audio Recording: You can record audio into the SD-card or a USB memory stick.
– Audio => MIDI converter: When audio input is available you can enable the experimental Audio to MIDI converter.
– MIDI over IP: QMidiNet allows to send and receive MIDI from/to other devices connected to your local network.
– TouchOSC: Allows to play using your tablet or smart-phone.
It's available to purchase as a kit starting from €150. You can find more information here or on Zynthian website.