Programmable Pi Arms for our kids on Kickstarter
Mime Industries is running a crowdfunding campaign for MeArm Pi, a robotic arm powered by Raspberry Pi.
The kit includes a Pi HAT that holds the joysticks for controlling the arm, and can also be controlled using Scratch, Blockly, Python or Javascript.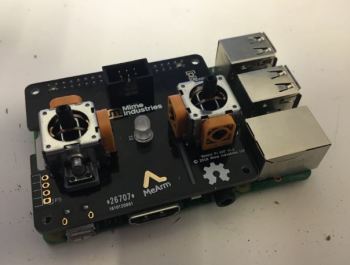 Mime has also built an app using Node.js, making the arm controllable via a web API. It's possible to program it through the browser in a number of different languages . Also included are all the structural components, hex driven screws for assembly, an allen wrench, and four metal geared servos. Two colors are available, blue and orange.

Four different kits are available on Kickstarter:
Pi HAT Only: if yout already got a MeArm
Standard MeArm Pi Kit: the robot arm is included without the Pi
Standard MeArm Pi Kit with Pi: everything you need to get started
Distributor Packs: for everyone wants to re-sell the MeArm Pi.
The MeArm Pi is a redesign of previous MeArm robots, eliminating 2/3 of the fasteners required for assembly and bulking up attachment points for easier assembly.
"We wanted give children a MeArm that was simple enough for them to build by themselves"
Servos are pre-calibrated for users to assemble and immediately start using the system. The HAT itself is designed for B+ form factor Raspberry Pi models, based off of the 40 pin GPIO header. Pi Zeros 'should work' but will require spacers to be used to fit in the robotics case, and models with less than 40 pins will not work.
This is a great proven robotic arm that gives opportunities to learn as much about programming and Raspberry Pi as the user wants to know. The hardware and software are fully open source, so you can customize your arm as you prefer.