PiCar-V is perfect for your Raspberry Pi-Powered Car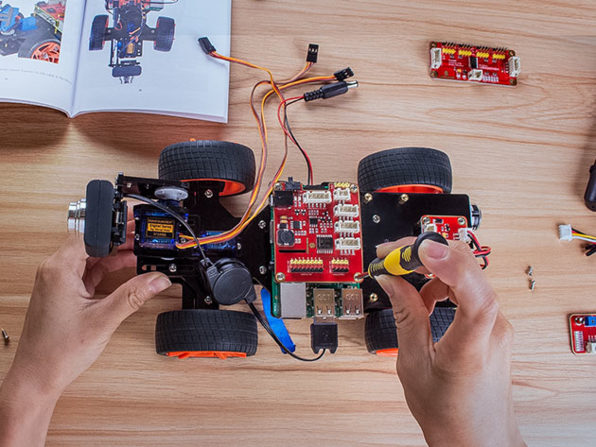 Available now at Android Community Deals for $149.99, the PiCar-V is an open source robot learning kit on Raspberry Pi, and this deal even includes your own Raspberry Pi 3 board.
The kit includes all the hardware you'll require, the build instructions are easy to follow, and it even comes with pre-written code to get it up and running fast. Build it just for fun, or use it as a springboard for further electronics training.
SunFounder Raspberry Pi Robot Kits show you how to make a camera equipped robot car using nothing more than a Raspberry Pi micro computer and a few other components. Once built, the car can transmit images in real-time using the included camera and you control the whole thing with your smartphone, tablet, or even your PC.
Technical details are listed below:

Supply input voltage: 7V-12V (by 2 18650 batteries)
Dimensions: 10.6″ x 6.7″ x 4.3″
Quad Core 1.2 GHz Broadcom BCM2837 64-bit CPU'
1GB RAM
BCM43438 wireless LAN and Bluetooth Low Energy (BLE) on board
40-pin extended GPIO
4 USB 2.0 ports
4 Pole stereo output and composite video port
Full size HDMI
CSI camera port for connecting a Raspberry Pi camera
DSI display port for connecting a Raspberry Pi touchscreen display
Micro SD port for loading your operating system and storing data
Upgraded switched Micro USB power source up to 2.5A