Phree – Make the world your paper. More than $500K funded on Kickstater and 30 days to go!
This is not an open source project, but it's definitely catching. At 31 days still to go before the end of funding period, this startup already got $500K on the $100K requested. 5X and one month to go. They are risking to beat all the funding records on Kickstarter.
What do they make? An ubiquitous writing device: write everywhere and get your notes digitally stored and displayed on any screen you want!
Phree™ is the world's first unrestricted, high resolution, write-virtually-anywhere mobile input device. We live in a world of screens. But writing or drawing on them isn't always spontaneous and doesn't always feel natural, especially if they're put away somewhere. Screens are useful, sure. We love our screens, too. But sometimes, they're just too limiting. Phree lets you write, draw, annotate, and express yourself in countless other ways. On virtually any surface.Phree™ will easily connect to all your devices: phone, tablet, laptop, TV…anything with a Bluetooth connection. And Phree is compatible with software and apps like Office, OneNote, EverNote, Acrobat, Google Handwriting Keyboard, Viber and more. So you can instantly sketch or jot down ideas, notes, thoughts, email addresses and phone numbers…whatever crosses your mind!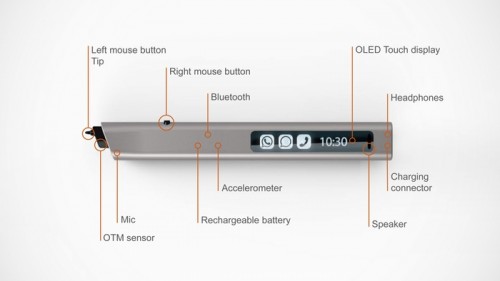 The patented OTM sensor is a compact 3D laser interferometer. It tracks the relative motion of a nearby surface by measuring the interference signal between a laser beam projected on the surface and the reflections from the surface. The beauty of this system is that it extracts the motion signal optically.

The signal is then translated to X-Y-Z motion information by our signal-processing algorithms running on a very small, integrated electronics component.

Phree enhances human interaction in areas such as Augmented Reality (AR) and Virtual Reality (VR), Biometric identification, Gaming, Interactive TV, and more.

Both AR and VR headsets present input challenges that call for creative solutions. Phree offers a unique ability to use the amazing hand-eye coordination we naturally possess to get fine control of objects in the AR/VR world even when we do not look at or see our hand.

For Biometric identification, Phree brings the ability to sign and write passwords anywhere, at high resolution, and by adding tracking of the tip motion also between strokes.