Obsidian ESP32 Board in a Raspberry Pi Form Factor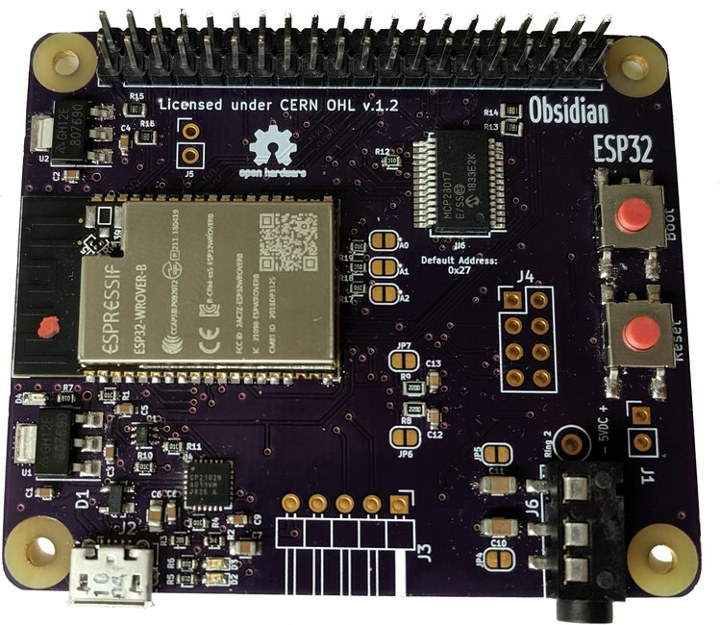 A new open source Espressif ESP32-based board offering a form factor similar to popular single board computers such as the Raspberry Pi Model A / 3 Model A+  has been launched via the Crowd Supply website this month and takes the form of the Obsidian ESP32.
Obsidian ESP32 is an Espressif ESP32-based board adopting the familiar form factor of popular single board computers like Raspberry Pi. This allows you to use wide variety of ready-made Raspberry Pi peripherals (or other peripherals) with the Arduino IDE, Espressif IDF, or MicroPython. The Raspberry Pi form-factor also allows you to use cases and accessories that are already on the market. And you can do it all with low power consumption.
Obsidian ESP32 specifications:
Wireless module – Espressif Systems  ESP32-WROVER-B 802.11 b/g/n WiFi + Bluetooth 4.2 / BLE module with 16 MB flash, 8 MB PSRAM
USB – 1x micro USB port for power and programming
Audio – 3.5mm TRS audio jack connected to ESP32 DACs
Expansion

40-pin GPIO header compatible with popular HAT expansion boards with 3.3 V signalling,  I²S for audio DAC, I²C and SPI, Serial UART available on header or via microUSB, I²C GPIO expander with interrupts & address selection
8-pim unpopulated header from remaining I/Os accessible through GPIO expander
5-pin unpopulated header with analog inputs connecting to the ESP32's SENSOR_VP and SENSOR_VN pins

Misc – Hardware buttons for reset and a selectable boot option in parallel with USB controlled signals
Power Supply

3.3 and 5 V on GPIO
5V via MicroUSB connector
Additional 5V input through 2x 2.54 mm spaced holes on the board
2x 3.3V regulators for ESP32 and GPIO

Dimensions – ~65 x 56 mm following Raspberry Pi Model A form factor and compatible with Raspberry Pi cases
Obsidian ESP32 supports the ESP-IDF framework, ESP32 Arduino Core and MicroPython, while the board has been designed with KiCad and the hardware design files such as the schematics and PCB layout will soon be released under the CERN OHL v1.2 license.