New Cloud Connected 3D Printer: GiantArm D200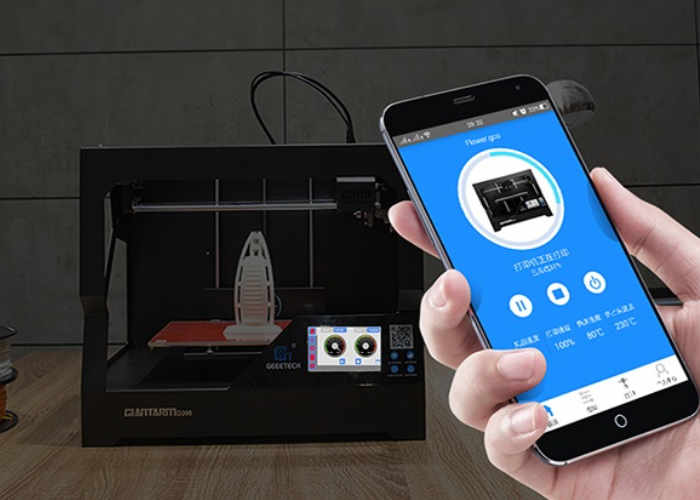 Geeetech has unveiled a new cloud 3D printer they have created in the form of the Geeetech GiantArm D200, which has been specifically designed to provide a "consistent and reliable printing experience for users" says developers.
Features of the new Geeetech GiantArm D200 cloud 3D printer include filament detector, break-resume capability, WiFi connectivity, and intuitive 4.3 inch full-colour touchscreen display to access menus and tweak settings when required stop.
The 3D printer has an open filament system, which means that users are free to choose their preferred filaments and printing materials. Supported filaments include ABS, PLA, flexible PLA, wood-polymer filament, HIPS, and more.
The smart cloud 3D print solution, which combines 3D printing with internet cloud-based technologies, allows users to select their favorite 3D models and to control the entire printing process via the EasyPrint 3D App. This enables makers to print anywhere, anytime.
The EasyPrint 3D printing software that comes with the GiantArm D200 3D printer is accessible for both beginner and expert users and is well suited for both customizing print settings as well as controlling and monitoring the print process.

Specifications:
– Print technology: FDM
– Build volume: 300 x 180 x 180 mm
– Printing precision: 0.05mm
– Positioning precision: X/Y: 0. 011mm, Z: 0.0025mm
– Print Speed: 80-110 mm/s
– Filament diameter: 1.75mm
– Nozzle diameter: 0.4mm
– Filament type: ABS/PLA/flexible PLA/wood-polymer/ PVA, HIPS, PETG, etc.
– Operating system: Windows/Mac/Linux
– Control software: EasyPrint 3D
– File format: .STL, G-code
– Max. heated bed temperature: About 110°C
– Max. extruder temperature: About 230°C
– Power supply input: 110V-240V
– Power supply output:DC24V/360W
– Connectivity: USB, SD card, WiFi
– LCD: 4.3″ color touch screen
– Chasis: Metal sheet
– Build Platform: heat-resistant glass + heatbed
– Stepper Motors: 1.8° step angle with 1/16 micro-stepping
– Machine Dimension: 470 x 350 x 395 mm
– Packing Dimension: 582 x 470 x 500 mm
– Net weight: 16.5 kg
– Gross weight: 21.6 kg
– Shipping weight: 29 kg
Watch the demonstration videos below to learn more about the smartphone-controlled 3D printer.