Inception X1: New Open Source Desktop 3d Printer on Kickstarter
Inception Machines based in the United Kingdom have created a new open source high-performance large format desktop 3D printer aptly named the Inception X1. Which is now available to back via Kickstarter with pledges starting from £1,595 and shipping expected to take place during May 2018.
The Inception X1 3D printer which is being created to provide users with exceptional print quality with unmatched affordability, says its creators.
"We created the Inception X1 to be unique. A 3D printer combining precision manufacturing with innovative British engineering and design. A 3D printer delivering uncompromised performance and reliability at an extremely competitive price. With the Inception X1, you can create almost anything you can imagine, from engineering prototypes and educational aids to figurines and toys, the possibilities are endless.

The modified Core-XY configuration reduces moving mass and inertia, enhancing both print speed and quality. Employing quiet high-resolution stepper motors provides the X1 with a remarkable degree of accuracy, capable of producing objects of stunning quality and detail.

The Inception X1 range has one of the largest build volumes in its class bringing desktop 3D printing to a new level. This extra build capacity broadens your creative possibilities while removing the tedious task of splitting objects down into smaller pieces."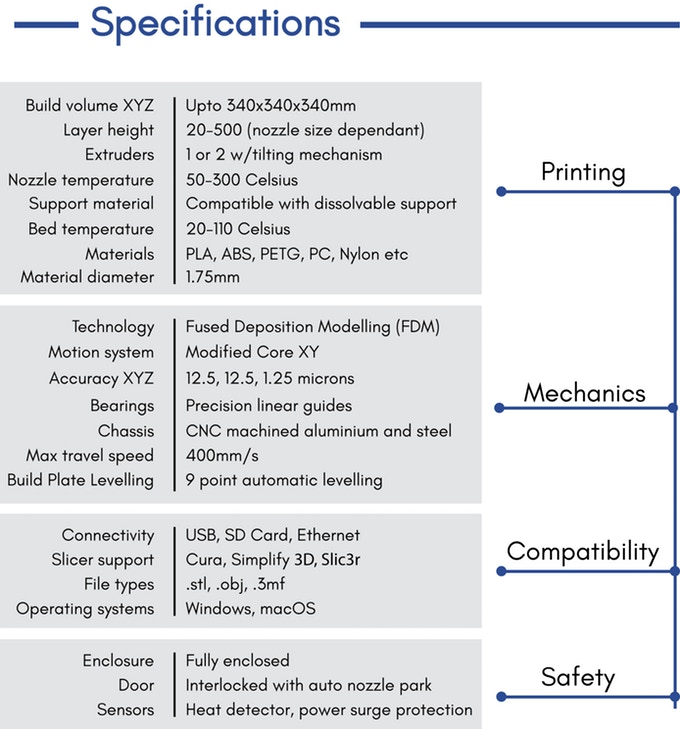 All of the Inception X1's hardware and software is fully open source. The X1's hardware has been designed using Autodesk Fusion 360, an entirely free professional CAD/CAM software package available to any hobbyist, student or educator. It allows you to create custom add-ons and modifications.