Improved Extruder that allows more plastic options is on Kickstarter
By
Staff
on December 21, 2013
Interesting kickstarter project wants to crowdfund a new and incredibly powerful extruder that can print with lots of materials.
Not open source :(
A larger and more powerful 3D printer extruder head that will allow additional sizes and types of unique plastic filament to be printed
Our project is to develop a new plastic extruder that can be fitted to existing 3D printers and will allow the 3D printers to print a number of types of thermoplastic beyond what is currently available.  Our goal is to sell 100 of these extruders.  

PVDF Chemical restiveness of PVDF and its long lasting strength will make this a popular choice for laboratories or clean-rooms where tanks, tank furniture, fittings or cassettes could be made quickly from a computer library of components or as needed from a 3D CAD drawing for a custom application.
PVC 1, PVC 2 & CPVC with their ability to withstand UV would be great for any sort of outdoor applications or unique PVC pipe fittings. These materials also resist acids and alkalies and are commonly used in chemical processing applications.
Polypropylene makes parts with a hard surface and resists many chemicals and solvents.  One interesting use for this material is its ability to make parts that have a living hinge on them, like used on the lid of a Tic-Tac candy box.  It is also commonly used in clean rooms for chemical benches, tanks and enclosures.   
Polyethylene available in low or high density formulations are very resistant to moisture as well as many chemicals.
HMW makes parts with a slippery surface useful for many industrial applications such as chain guides or rollers. It has excellent impact strength and good wear resistance.
Polycarbonate is synonymous with impact resistance. This transparent material has excellent impact resistance over a wide temperature range. Parts made from this plastic would have great strength and flexibility.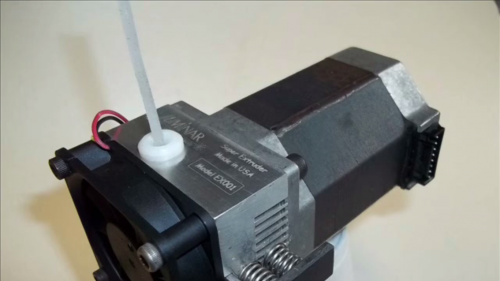 Improved 3D printer extruder allows more plastic options by Ron Steele — Kickstarter.