FriendlyElec has unveiled COM-like variants of its Nano Pi Neo/Neo2 SBCs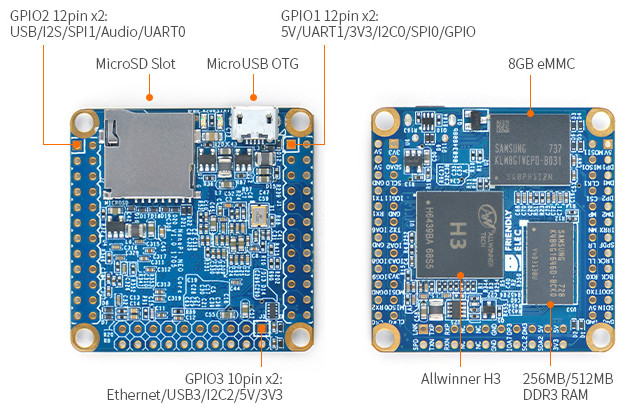 FriendlyElec's new $8 NanoPi Neo Core and $25 NanoPi Neo Core2 boards are low-profile variants of the company's earlier 40 x 40mm NanoPi Neo and NanoPi Neo 2 SBCs, but with their large, topside USB and Ethernet connectors replaced by a third dual-row pin header.
The new boards are more like computer-on-modules (COMs) than single-board computers (SBCs), in that they're meant to be combined with off-the-shelf or custom carrier boards, such as FriendlyElec's RPi 3-like Mini Shield
Each of these new NanoPi Neo Core boards implements all the functional specs of its predecessor, with the Core being built around the 1.2GHz quad-core Cortex-A7 based Allwinner H3 SoC, and the Core 2 using Allwinner's 64-bit, 1.2GHz quad-core Cortex-A53 based H5. Additionally, both Core models are available with up to 32GB of onboard eMMC flash. But whereas the Neo Core is limited to the same SDRAM options as the Neo (256MB or 512MB), the Neo Core 2 adds a 1GB RAM option on top of the Neo 2's 512MB limit.
FriendlyElec has also developed a "Mini Shield" carrier board, implemented in a Raspberry Pi 3 compatible form-factor, to simplify developments and projects based on the boards. The combination of a NanoPi Neo Core or Core2 with the Mini Shield can be well fit into a common RPi 3's case.

NanoPi Neo Core and Core2 specifications are listed below:
Processor:

Neo Core — Allwinner H3 (4x Cortex-A7 @ 1.2GHz)
Neo Core2 — Allwinner H5 (4x 64-bit Cortex A53 @ 1.2GHz)

RAM:

Neo Core — 256MB or 512MB DDR3
Neo Core2 — 512MB or 1GB DDR3

Storage:

8GB/16GB/32GB eMMC (0GB option available on Neo Core)
1x MicroSD Slot

Networking:

Neo Core — 100Mbit Ethernet
Neo Core2 — 10/100/1000Mbit Ethernet

USB — 3x USB Host; microUSB OTG + power input
Expansion headers — 3x 2.54mm-pitch dual row headers (2x 24-pin; 1x 20-pin) containing GPIO, UART, SPI, I2C, audio in/out, Ethernet, power, etc. (see pinout image above)
Other — 2x LEDs for power and system status
Power — 5V DC @ 2A
Dimensions — 40 x 40mm
Operating temperature — -40 to 80°C
Operating system — Ubuntu Core; Armbian; U-boot bootloader