BioControle : Aquaponic and hydroponic I/O Add-on for Raspberry Pi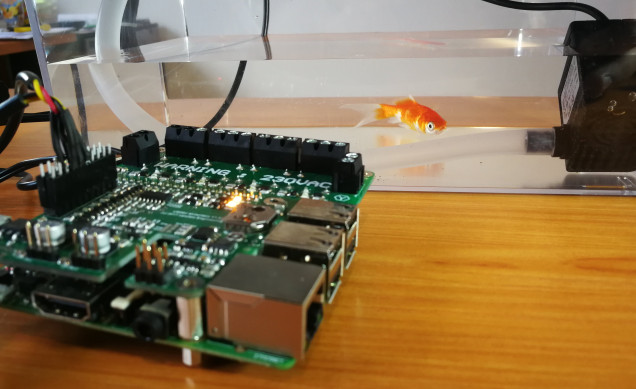 Luxembourg based Upsilon Engineering, has gone to Kickstarter to launch its BioControle add-on board for the Raspberry Pi 3. The board can be used as a general purpose I/O and DAQ add-on but is specifically designed as a control board for aquaponics and hydroponics gardening.
Features of the board include :
– full protected user IOs and power supply input
– full protection between your application and your Raspberry
– 4 power relays outputs
– 2 inputs/outputs for temperature and humidity sensors
– 2 logical inputs and 2 logical outputs
– Real Time Clock
– EEPROM
– 12 bits ADC
– 12 bits DAC
– 2 power servomotor outputs
– enhanced PCB design for CSI and DSI headers
All interfaces are said to be protected against reverse polarity, undervoltage, and overvoltage. It also offers full protection between your application and your Raspberry Pi with the help of buffers, level shifters, protection diodes, and serial protection resistance. The board provides 5V and 3.3V power supply supervisors connected on LED and Raspberry Pi input, and can run on a standard 230VAC adapter.

Further information can be found at BioControle's Kickstarter page.