8-Channel ADC Rpi HAT For Analog-To-Digital Conversions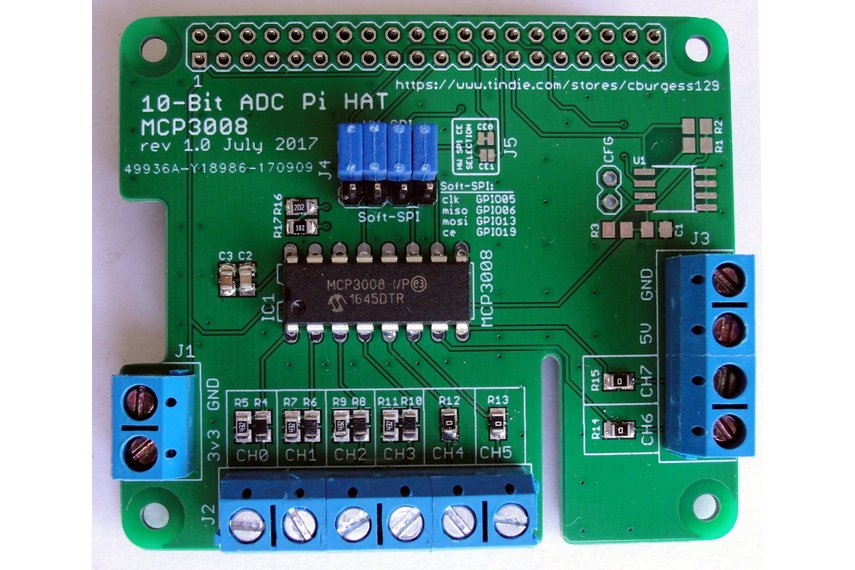 Raspberry Pi enthusiasts may be interested in a new 8 channel ADC which has been specifically created for the Raspberry Pi which is capable of providing analog-to-digital conversions.
Created by Chris Burgess the 8-channel ADC for the Raspberry Pi is now available to purchase for $17 or £12.56 directly from the awesome Tindie website.
Chris designed the Raspberry Pi HAT due to the lack of anything currently available in the market when he was building a high powered robot that needed to be able to accurately measure voltages and take analog sensor readings.
Based on the MCP3008 ADC controller IC:

16-pin DIP package.
8-Channel
 200 ksps max. sampling rate at VDD = 5V
 10-Bits of resolution (when powered with 5V.)
Analog inputs programmable as single-ended or pseudo-differential pairs
On-chip sample and hold
SPI serial interface (modes 0,0 and 1,1)
Low power CMOS technology
5 nA typical standby current, 2 µA max.
500 µA max. active current at 5V
Industrial temp range: -40°C to +85°C
Adafruit Tutorial
Board Features:
8 ADC input Channels:
4-channels configured with voltage divider to allow measuring voltage up to 14.5VDC.
4-channels configured with zero-ohm jumpers to allow for direct-input for ADC measurements.
All channels can be reconfigured for zero-ohm jumpers, inline-resistors or in-line capacitors.
Channel 0-3 can also be reconfigured for pull-down resistors, or ground-referenced capacitors.
3.3V, 5V, and GND connection terminals.
Board can back-power Raspberry Pi via 5V and GND connection terminals.
High-quality screw-terminals on all channels.
Hardware or Software SPI, selectable via jumpers.
SPI can use CEO of CE1, selectable via solder jumper.
Footprint for EEPROM and supporting passive components to allow you to turn into true rPI HAT (EEPROM and passives optional.)
Stackable header option.