SolidRun Has Launched the Latest i.MX6 MicroSOM Based HummingBoard CBi Board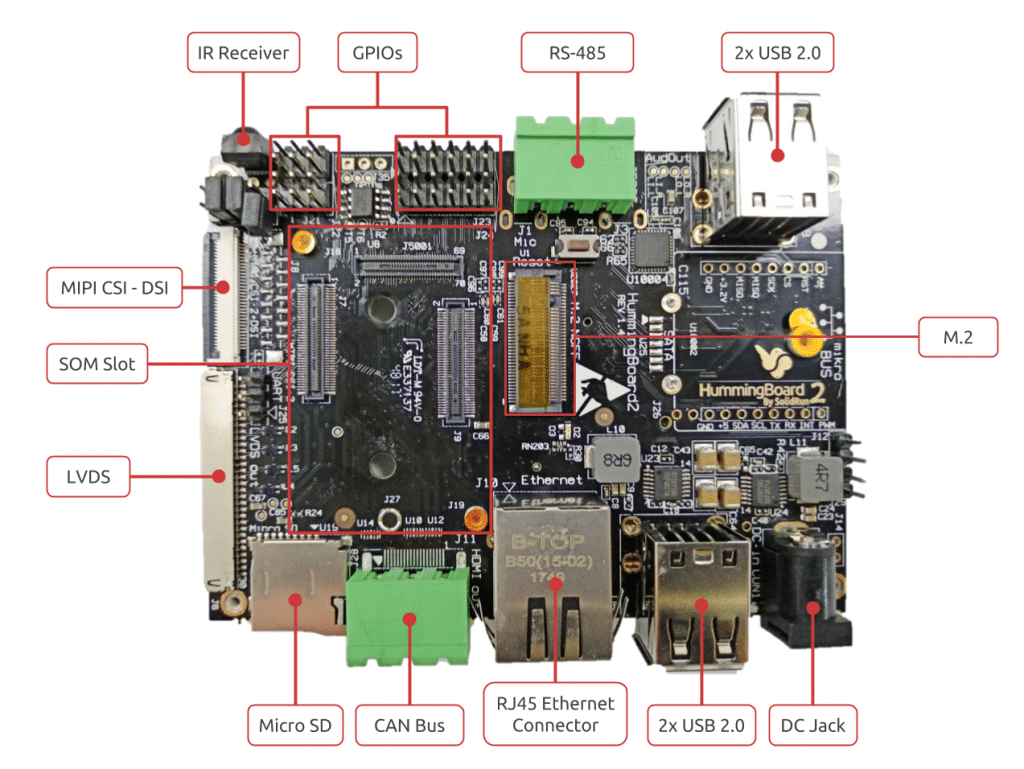 SolidRun, a company focused on manufacturing Linux supported SBC and embedded boards, just announced the release of another addition to their Hummingboard series called the Hummingboard CBi. The new board features CAN port, serial ports and runs Linux on an i.MX6 MicroSOM processor. Debian, Yocto Project, BuildRoot, and OpenWrt stacks are available with a Linux 4.4x kernel, and developers are still working on Android support.
Comapred to the previous HummingBoard Edge , the CBI lacks the HDMI port but adds CAN and RS485 ports via terminal connectors and adds a configurable push button and LEDs.
The dual-core version costs $189 with 1GB RAM and $255 for the quad-core model with 2GB, the same as an equivalent Edge.
The board ships with a standard enclosure, heatsink, -40 to 85°C support and open schematics.
Specifications listed for the HummingBoard CBi include:

Processor (via MicroSOM i.MX6) – NXP i.MX6 (2x or 4x Cortex-A9 cores @ up to 1.2GHz)
Memory/Storage:

1GB (Dual) or 2GB (Quad) DDR3 RAM (via MicroSOM i.MX6)
8GB eMMC (via MicroSOM i.MX6)
MicroSD slot
M.2 2242 slot with storage support

Wireless — WiFi/Bluetooth module
Networking –- Gigabit Ethernet port (limited to 470Mbps bandwidth)
Media I/O:
Other I/O:

4x USB 2.0 ports
RS485 port (terminal connector)
CAN bus port (terminal connector)

Expansion:

Mini-PCIe slot with SIM card holder
M.2 2242 slot (see memory/storage above)

Other features – Reset button; configurable push button; IR receiver; RTC; 3x LEDs; metal enclosure
Power — 7-36V input jack
Operating temperature — -40 to 85°C
Dimensions -– 102 x 69mm
Operating system — Linux 4.4x (Debian, Yocto Project, BuildRoot, OpenWrt; Android coming soon