Raspberry Pi MegaIO-IND: the Low Cost Solution for Industrial Processes Monitoring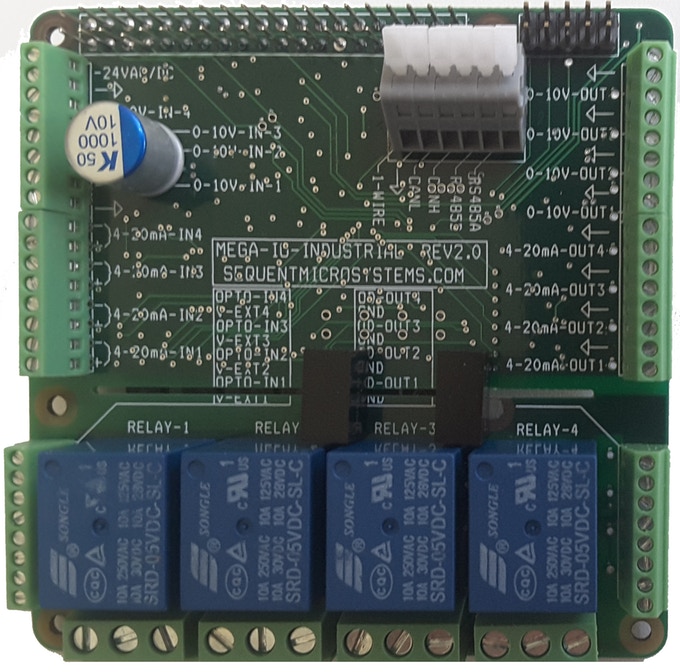 If you are a business man and you're looking for an open source sbc for industrial use, you may be interested in a new expansion card in the form of the Raspberry Pi MEGA-IO design specifically for industrial applications. Features of the new Raspberry Pi MEGA-IO industrial expansion card include 4-20mA & 0-10V In/Out, Opto-Isolated In/Open Drain Out, 10A/250V Relays, RS585, CAN, 1 Wire, Real Time Clock, Interrupts as well as the ability to stack for together.
The Raspberry Pi MEGAIO-IND expansion card specifications include:
24VDC Power Supply
Four Optically-Isolated 4-20mA Inputs
Four 4-20mA Outputs
Four 0-10V analog Inputs
Four 0-10V analog Outputs
Four Optically-Isolated Digital Inputs
Four Optically-Isolated Open Drain  Outputs
Four Optically-Isolated 10A/250V Relays with status LED's
Four General Purpose LED's
RS485, CAN, 1 Wire communication
Real time clock with battery back-up
Configurable Interrupts
"The Raspberry Pi expansion connector is passed through and can be used to access all the GPIO pins, or to install any 3rd party add-on card. Up to four MegaIO-Industrial cards cand be stacked on top of each other. Any number of cards can be controlled from a single Raspberry Pi using the RS485 port."
Worldwide shipping is expected to take place during January 2019. For more information you can visit the related Kickstarter page or watch the video below.