Raspberry Pi + Celestron127SLT = Hands-Free Telescope Focus System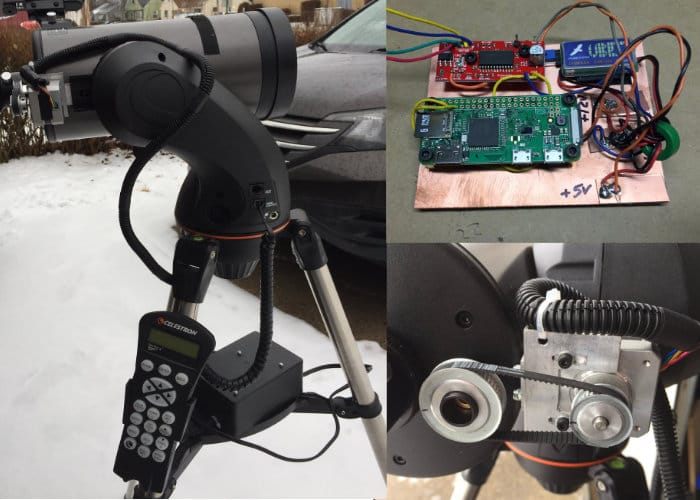 Cosmos enthusiast Jason Bowling's come up with a very straightforward way of focusing his Celestron 127SLT with a Raspberry Pi Zero SBC.
 "One of the tradeoffs with the mid-price Celestron 127SLT is that it shakes rather badly when you touch it, and takes several seconds to settle down. I'm focusing using a Bahtinov mask and Sharpcap's Bahtinov aid, which gives a numeric indication of the accuracy of your focus. It can be a slow process to focus it since you tweak, wait, and tweak again."
Using a £5 Raspberry Pi Zero mini PC together with a stepper motor allows for a more accurate focusing system without the need to touch the telescope in any way. He's now able to focus the telescope with more accuracy and repeatability than clumsy human fingers will be able to replicate.
To control the stepper, Jason uses an EasyDriver connected up to the Pi's GPIO, which along with a 5V regulator  is held in a tidy weather proof box mounted to the telescope's tripod. The regulator is necessary because the whole setup is powered by a 12V portable "jump start" battery pack for portability.
Further information can be found on the Short Circuits and Infinite Loops Blogspot.