R-Kade Zero • The gaming controller for the Raspberry Pi Zero!
By
Staff
on March 22, 2016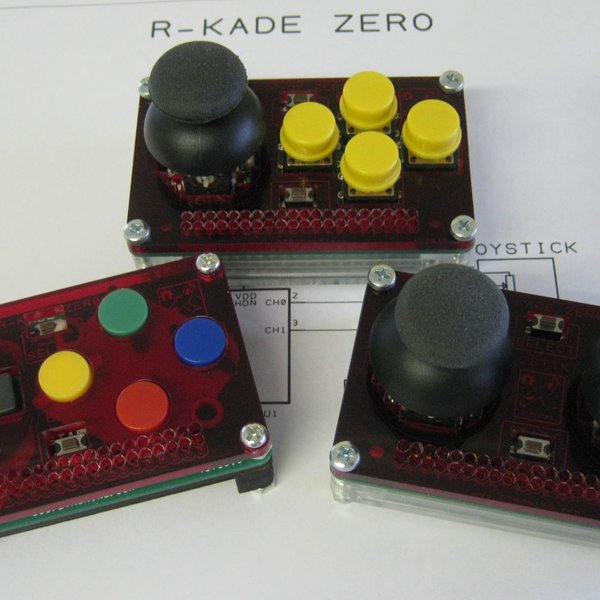 R-Kade Zero is one of the smallest and minimalist gaming controllers around. If you add a tiny Raspberry Pi Zero and a case and you've built yourself a tiny video gaming platform.

The central idea to this is an interchangeable gaming controller gives the player a choice for their favourite style of play. You can choose from a single joystick and 4 control button experience or go with a two joystick experience as an alternative. There's even a classic D-Pad design lined up as a stretch goal.
There's a strong Retrò gaming movement that is backing up to life the world famous old games, using different hardware and figuring out many solutions to reproduce the big devices we (and for We i intend X-generation people!) were used to live in the penny arcades. Raspberry Pi with its Zero board seems to be the "catch all" solution for this!
The first R-Kade took shape in late 2012 and was built in early 2013. It was a classic arcade cabinet shape only shrinked to be down to a desktop size. It made its world debut at Maker Faire UK in 2013. Since then it has appeared at every Maker Faire UK since, as well as various Mini Maker Faire's around the country and numerous other maker events.

Even through the first R-Kade was small-ish by full sized arcade cabinet standards, it was still a heavy and bulky thing to carry (more like lug) around. So plans we're made to shrink it again. So early in 2015, a new design based on a smaller LCD display was made. When the Raspberry Pi Foundation announced its official 7″ display the design was updated to use this and desk top arcade was shrunk into a mini arcade, the R-Kade Mini.

So far so good, then the Raspberry Pi Foundation did something that made us change our plans. When out of no where it announced the Raspberry Pi Zero.

The newest and smallest Raspberry Pi Zero is just perfect to be made into an Arcade/Video Game Console platform. The R-Kade Mini Arcade is still here but we couldn't resist the prospect of making something evening smaller with the Zero.
R-Kade Zero is on Kickstarter now, rush to get your controller now!
Source: R-Kade Zero