Orange Pi 3: the Latest Attractive Raspberry Pi Competitor Starts at $29.90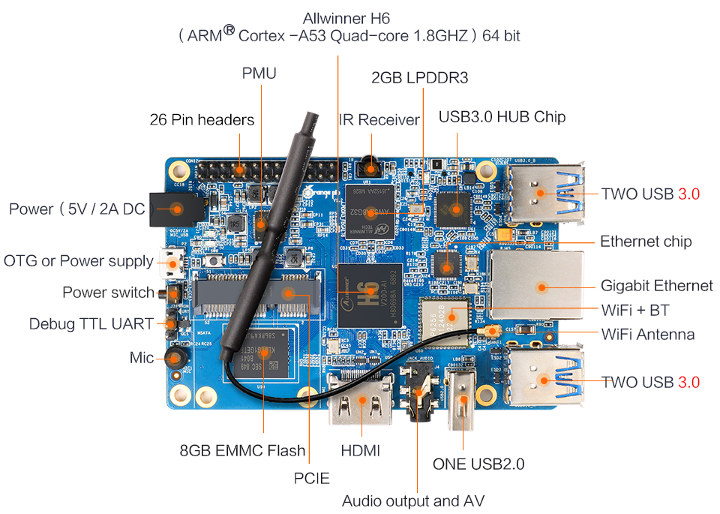 Generally Orange Pi devices don't have the same level of community support as their Raspberry Pi rivals, but they often make up for it by offering a decent set of features at an affordable price.
So the latest Orange Pi 3 offers a number of features (some optional, some standard) that you don't get with the latest Raspberry Pi models.
The Raspberry Pi competitor is equipped with an Allwinner H6 SoC that integrates four ARM Cortex A53 cores that clock up to 1.8 GHz and an ARM Mali-T720 GPU. The SoC is complemented with 1 GB or 2 GB of LPDDR3 RAM depending on the model purchased and 8 GB of eMMC flash storage. There are also two versions with no pre-installed storage.
| | | |
| --- | --- | --- |
| Model | Pricing (USD) | Pricing (GBP) |
| Orange Pi 3 with 1GB LPDDR3 | $29.90 | £23.59 |
| Orange Pi 3 with 1GB LPDDR3 and 8GB eMMC | $34.90 | £27.54 |
| Orange Pi 3 with 2GB LPDDR3 | $34.90 | £27.54 |
| Orange Pi 3 with 2GB LPDDR3 and 8GB eMMC | $39.90 | £31.48 |
All four models are otherwise equally equipped though. The Orange Pi 3 H6 has an HDMI 2.0a port, a Composite video output and a 3.5 mm jack. There is also a Gigabit Ethernet port and a Wi-Fi module that supports up to IEEE 802.11 ac and Bluetooth 5.0. Moreover, Shenzhen Xunlong Software has equipped the device with four USB 3.0 Type-A ports, one USB 2.0 port and a TF card slot.
The Orange Pi 3 also comes with its own IR receiver, mini-PCIe (mPCIe) 2.0 x1 slot, and a 26-pin GPIO expansion header for connecting devices like sensors and motors.

Unlike the Raspberry Pi, the Orange Pi 3 also lists Android 7.0 as being officially supported on the board, alongside Ubuntu and Debian.