NitroQ – The Power Bank That Charges In Just 7 Minutes on Indiegogo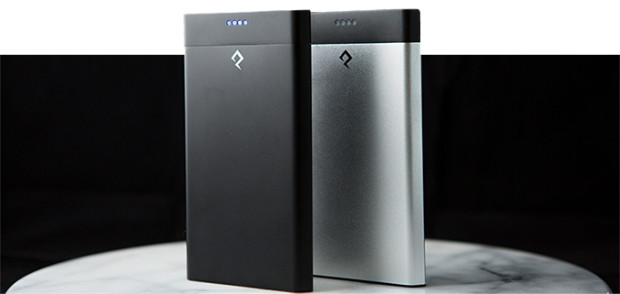 NitroQ's custom designed electronics and nanotechnology enhanced battery allow for high-speed charging. NitroQ can be charged 10x faster than other power banks, requiring only 7 mins to store a smartphone charge.
NitroQ is built for those constantly on the go

Are you in business meetings all day? No problem. Charge your NitroQ at home, throw it in your briefcase and head out the door without fear of missing an important email or phone call. Always on the go, traveling from place to place? Stay the course with NitroQ. Keep up with your lifestyle and never be caught with a dead battery again.
7 minutes. That's how long it takes to store one full smartphone charge in your NitroQ power bank. It takes just 15 minutes to fully charge NitroQ. NitroQ's enhanced battery charges 10x faster than other power banks. We are able to do this using a nano-particle enhanced battery chemistry – technology that is typically found in high-end applications such as defense, aerospace and racing.

The NitroQ power bank has been designed to protect against over voltage, under voltage, over current, short circuit and operating temperature anomalies to ensure it can charge both itself and all your devices safely at the fastest rate possible.

NitroQ's high grade aluminum enclosure protects the electronic contents from any external damage, giving NitroQ a long product life that keeps up with your busy life.

With long life cycles of >1500, NitroQ is able to outlast other electronic gadgets by 10x.

This module accepts the voltage and current from the AC/DC adapter and performs several checks to make sure that it is at the expected voltage/current for stability.

This module is capable of accepting a range of input voltages (12 – 20V). While it is highly recommended that the provided AC/DC is always used, NitroQ can be charged with any AC/DC adapter with the correct tip (3.5mm x 1.35mm DC jack is used).

With flow through charging, you can charge both your NitroQ and smartphone at the same time without fear of damaging your smartphone.

The NitroQ battery is capable of safely accepting and enduring very high currents, allowing it to be charged quickly. This is made possible thanks to enhancements done using nano particles integrated with the Lithium-ion chemistry.

A charging efficiency of up to 95% (wall socket to battery) has allowed for fast charging in the small and sleek build of NitroQ without overheating.
Source: Indiegogo