New NanoPi Fire3 and Fire2A SBCs with Ubuntu Core-based FriendlyCore OS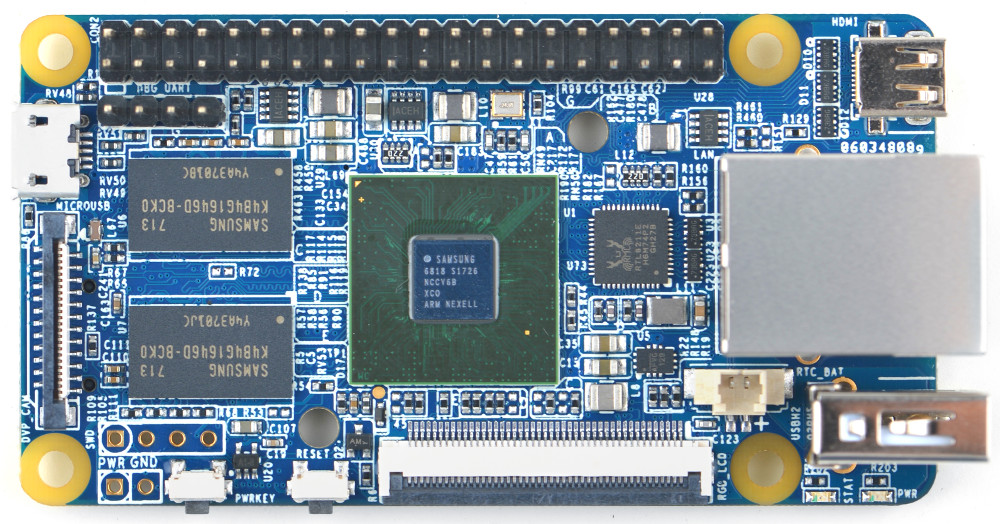 FriendlyElec's open source two new SBCs, which support Android and Linux distributions including a new Ubuntu Core-based FriendlyCore distro, are identical except for the processor and RAM. The NanoPi Fire2A (image below) uses the same Samsung S5P4418 (4x Cortex-A9 @ 400MHz to 1.4GHz) as the NanoPi 2 Fire, accompanied with 512MB DDR3 while the NanoPi Fire3 (image on top) taps the S5P6818 (8x Cortex-A53 @ 400MHz to 1.4GHz) used on the NanoPC-T3 and NanoPi M3, with 1GB RAM.
Unlike many other NanoPi boards, there is no eMMC flash, and no wireless capability aside from what you can plug into the USB port. A microSD slot is found on the flipside.
Like the earlier NanoPi 2 Fire, the NanoPi Fire2A and the NanoPi Fire3 give you RGB LCD and DVP camera interfaces, a debug/serial interface, and a Raspberry Pi compatible, 40-pin expansion interface. The 5V board also provides a power management chip with dynamic voltage control and an RTC with battery backup. A heatsink, camera module, and touchscreens are optional.
The two new boards ship with schematics, and offer the same community support provided by all NanoPi boards. Debian images are available for both systems, and although the NanoPi Fire2A wiki mentions Android compatibility, an Android image is available only for the NanoPi Fire3, probably due to the NanoPi Fire2A's limited 512MB of RAM.

The new boards debut FriendlyElec's custom version of Ubuntu Core Ubuntu Core 16.04, called FriendlyCore. The distribution adds Qt 5.9 and OpenGL ES1.1/2.0, among other features. FriendlyCore components include:
Linux Kernel 4.4
Ubuntu Core16.04
npi-config: system configuration utility for setting passwords, language, time zone, hostname, SSH, and auto-login
Networkmanager
System log output from serial port
Welcome window with basic system information and status
Auto-login with user account "pi" with access to npi-config
LibMali and OpenGL2.0 driver supported
Qt 5.9 TLS with OpenGL hardware acceleration
HD video with hardware decoding
GStreamer 1.0 with VPU hardware acceleration