Microsoft Launches Open Source Tool To Help iOS and Android Developers Port Their Apps To Windows
By
Staff
on August 14, 2015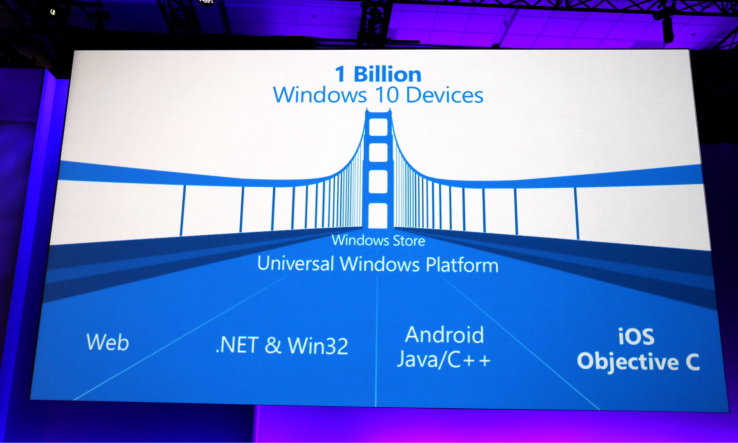 At its Build developer conference earlier this year, Microsoft announced that it would soon release tools that would make it easier for iOS and Android developers to take their existing code and port their apps to Windows. The Android version of this, officially named Windows Bridge for Android, is now in private beta. The iOS version, however — previously known under the codename "Project Islandwood" — is entering its first public preview today.
The code for the Windows Bridge for iOS is now available as an open-source project under the MIT license on GitHub.
Microsoft stresses that this is still very much a work-in-progress and some of the promised features are now available yet or are still very buggy. Still, Microsoft expects the final version to land in the fall to coincide with the launch of the first update to Visual Studio 2015.
Using the bridge, developers will be able to port their iOS apps to both Windows 8.1 and Windows 10. Right now, they can only target the standard X86 and X64 architectures, but soon, the compiler will also support ARM (and with that, mobile devices).

So how does all of this work? As Salmaan Ahmed, the product manager on the Windows Bridge for iOS team, writes today the general idea behind the project is to "enable iOS developers to create Windows apps using [their] existing Objective-C code and skills."
He stresses that the team decided to go with a bridge approach over a straight-up port. "Our goal with the iOS bridge has never been simply to run iOS apps on Windows," he writes. "Rather, our goal is to help you write great Windows apps that use as much of your existing code and knowledge as possible."
Source: Microsoft Launches Open Source Tool To Help iOS Developers Port Their Apps To Windows