Magilyzer EM800: DIY Audio Spectrum Analyzer Kit Now on Kickstarter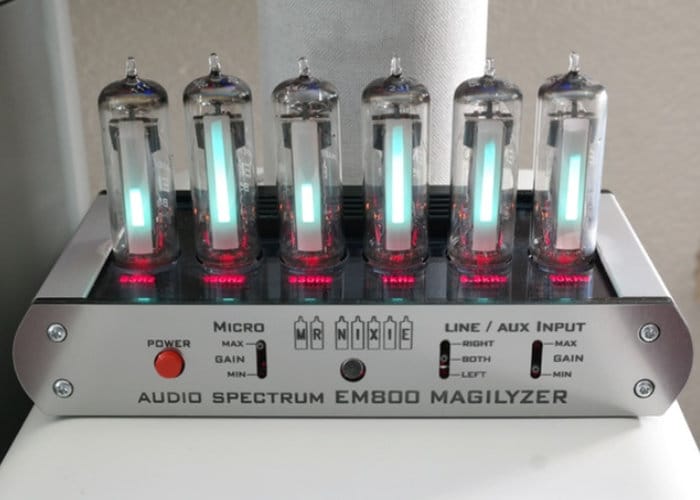 The Magilyzer EM800 is an analog audio spectrum analyzer, based around an analog analyzer chip.
The DIY Audio Spectrum Analyzer consists of a 6 Band Audio Spectrum Analyzer with 6 x New Old Stock German TELEFUNKEN EM800 Magic Eye tubes, offering an easy to build electronic kit.
"The Magilyzer EM800 operates with six EM800 Magic Eye tubes and has two RCA stereo in- and outputs (for easy daisy chaining the device within an existing audio path) and also two 1/8″ TRS jacks for simple connecting your MP3 player, mobile phone plus headphone for listening etc. Both signals (RCA and 1/8″ TRS are only internal mixed and do not affect each other. The Magilyzer EM800 uses no digital processor or FFT (Fast Fourier Transformation); so the display is stepless and fully in realtime."
The Magilyzer EM800 offers the display of six selective audio bands:

63 Hz = Low Bass (e.g. Bassdrum)
150 Hz = Mid Bass (e.g. Bassguitar)
330 Hz = Low Mid (near concert pitch of the most musican instruments)
1 kHz = Mid of voice frequency (e.g. the "beep" sound for indecent words in interviews)
3.3 kHz = Presence (e.g. "sch" in the word Schedule or the imitated sound of a steam locomotive)
10 kHz = Heights (e.g. "ssss")
As an extra feature, you can mix the signal of a build in microphone to the display, to use the Magilyzer as a stand-alone device when no audio source is connected.
The kit is now available to back with earlybird pledges available from €169.
Watch the demonstrative video below for more information.