iTracker RAK8211-NB Module Includes NB-IoT, BLE5.0, GPS and Many Sensors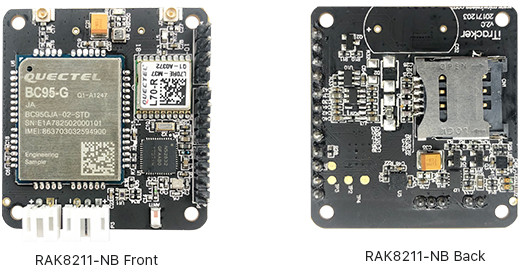 Rak Wireless has recently launched a new products called RAK8211-NB iTracker based on a Quectel BC95-G NB-IoT module, Nordic Semi nRF52832 Bluetooth 5 chip, and Quectel L70-R GNSS module. The asset tracker module also comes with 5 different sensors to monitor motion and environmental data, and can optionally be powered directly by a solar panel.
You can use the module with the Arduino IDE, Espruino and Arm Keil tools.
"iTracker RAK8211–NB is versatile developer board aimed at aiding in quick prototypes using NB-IoT. The board includes a vast array of connectivity options (NB-IoT, BLE5.0 and GPS) and sensors like an accelerometer, a light sensor and a barometric sensor. At the heart of the module is the venerable Nordic NRF52832 BLE processor. The NB-IoT connectivity is provided by the Quectel BC95 module. The iTracker module is Arduino friendly and can be programmed using the IDE.

The board also provides SWD interface for programming the nrf52832 core. The combination of BLE and NB-IoT provides flexible low power consumption development along with myriad of application option ranging from telemetry to live tracking and environment sensing."
RAK8211-NB iTracker specifications:
Connectivity

NB-IoT via Quectel BC95-G (Global) wireless communication module + SIM card socket
Bluetooth 5 via Nordic Semi nRF52832 Arm Cortex-M4F micro-controller (Arduino compatible)
GPS/GLONASS via Quectel L70 GNSS module
Sensors
LIS3DH 3-axis "nano" accelerometer
LIS2MDL 3-axis digital magnetic sensor.
Tilt sensor
BME280 pressure, humidity and temperature sensor
OPT3001 intensity of light sensor
Other
Expansion – 3x headers with SWD, 2x sensor out + tilt out (also usable as GPIO and analog inputs), 3.3V, GND, and reset
Power Supply – 3.5V to 18V via solar panel (P2) or battery (P3)
Dimensions – 43mm x 38mm x 18mm
Temperature Range – 40°C to +85°C
It is available for $98.40 + shipping on Aliexpress.