Industrial IoT gets out of the box with 4zerobox!
The first Python-programmable modular toolbox to develop Industrial-grade IoT solutions is now live on Kickstarter
The Italian tech startup TOI (Things On Internet) Srl, active in the development of IoT solutions, today launched a Kickstarter campaign for 4zerobox: the first modular electronic board that is easy-to-configure and specifically designed for IoT and Industry 4.0 solution providers. Starting at $149 for the Special Early Bird adopters, the Kickstarter campaign can be found here.
With 4zerobox, small and large enterprises can accelerate the digitization of industrial environments, where the implementation is often limited by practical obstacles like the inaccessibility of PLC code and the spread of low capability IoT gateways.
The board has been designed for IoT specialists and Industry 4.0 solution providers wishing to easily and simply adapt systems to meet real-world industrial needs while maintaining reliability and making compliance with technical and industrial regulations paramount. It also opens the Industrial IoT world to high-level language developers thanks to the full Python programmability. Developers can choose the best installation strategy, adapting it to a specific industrial environment. While allowing to acquire data from the PLC via digital ports – filtering the data onboard to avoid bandwidth overload and waste of cloud resources – it also enables the installation and management of distributed sensors, for a full Industrial IoT experience.
Housed in a DIN-rail mountable case with industrial grade sensor channels, the 4zerobox includes features connectivity support for Wi-Fi, Bluetooth, Ethernet, LoRa, CAN, RS485, and RS232 together with JTAG, I2C and SPI peripheral interfaces.

4zerobox hosts a powerful ESP32 microcontroller by Espressif Systems (240MHz, 4Mb Flash, 312KB SRAM), that is programmable in Python thanks to the Zerynth® SDK. This also enables Firmware OTA updates and ready-to-use connectivity modules for IoT cloud services like AWS and Google Cloud.
Last but not least, there are 2 on-board mikroBUSTM sockets to extend the 4zerobox with hundreds of MikroElektronika click boardsTM.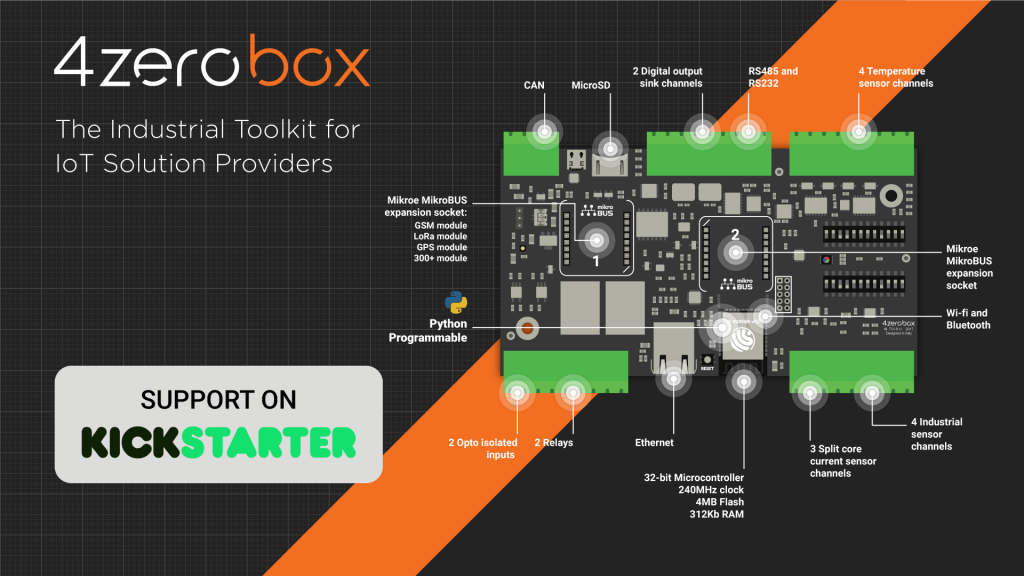 Daniele Mazzei, CTO at TOI srl, explains:
Industrial IoT has the potential to revolutionize the way we live, and we're excited to be a part of this revolution with 4zerobox. As we believe that acquisition and processing of industrial data should be as simple as building a new website, 4zerobox is designed to provide an enjoyable user experience, thanks to compact but accessible layout and a modular approach.