How Can Seeed Studio Sell Seeeduino at only $6.90? Keep Reading!
Sponsored by SeeedStudio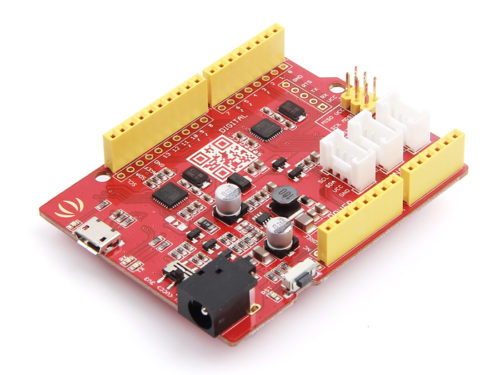 You may be aware that we have reduced our Seeeduino's price from $19.95 to $6.90 on the Seeed Bazaar since last week. No doubt many of you are curious as to how we were able to do this without sacrificing our quality. Well in what may be a surprise, there was no magic involved – just hard work in improving our operations.
Over the last 9 years Seeed has been working on strengthening our supply chain management and making improvement to our agile manufacturing abilities – we think it's time to share with the open source community what we have achieved. The example that we wish to share is our Seeedunio first as it is one of our star products, and second as it is compatible with the Arduino which is suitable for the whole community. All of our customers can create their own customized Seeeduino(or what we call their "YOURduino") in the Seeed Fusion with only $25 setup fee, start from 1 piece, and take advantage of what we have learned and achieved.
So here we go – we will show you both the Seeeduino's BOM and also how we manufacture the board in our factory.

First to begin our journey let's use a chart that shows the journey.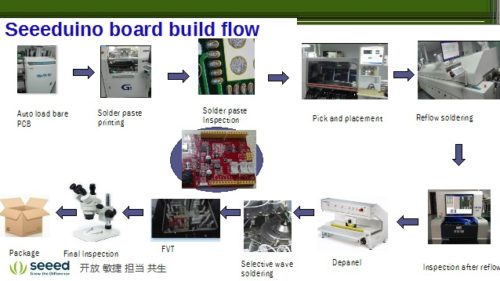 The 5 steps Seeed uses to optimize our efficiency during the assembly process:
Step 1) We utilize an automatic PCB loader which not only can keep up a very consistent rate, but also reduces the need of 1 operator in the printing station and also reduces the risk of ESD and contamination due to handling. We have been working hard to increase our factory's automation which improve both our yield and reduce our costs.
Step 2) We have introduced TPM for our P&P (pick and place) machine. TPM, or total productive maintenance is a system that helps to maintain and improve production quality. This has allowed us to be highly efficient with our overall manufacturing rate. It has reduced our overall machine down time, and cost.
Our engineer department has been working on the placement program to maximize the machine's placement efficiency. After our optimization it only takes 120 seconds for 4 boards – previously it was 127 seconds. That 7 second difference is crucial when it comes to mass production and it can cost $0.15 for each 7 seconds.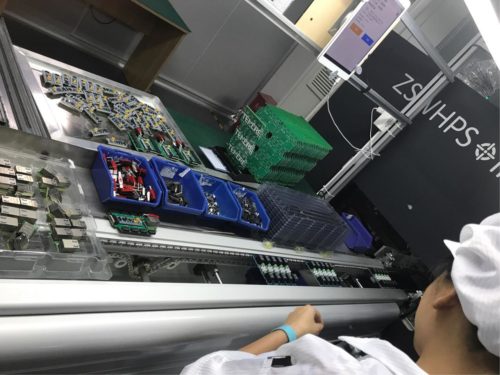 We have also performed better calibration on our feeders to reduce the chip component throw out rate from 0.3% to less than 0.1%. Again when it comes to production, even for smaller batch sizes, this can lead to much larger cost savings.
Step 3) We use selective wave soldering, which improves the efficiency over manual soldering. It can reduce the flux residue, avoid the time intensive washboard process, and if it does require a wash, it reduces an operator's work in the wash board station. Furthermore, it also helps us to avoid component damage, ESD, and contamination caused by the manual soldering process.
Step 4) All the Seeeduino boards need to pass functional testing. The Seeeduino functional testing ensures 100% functionality. Note: Some boards when manufactured cannot do 100% functional testing, or it is cost prohibitive. We have redesigned the test jig which can now test 4 boards at a time to improve the testing efficiency. This step has greatly increased the testing efficiency as we now can save 3 workers' time.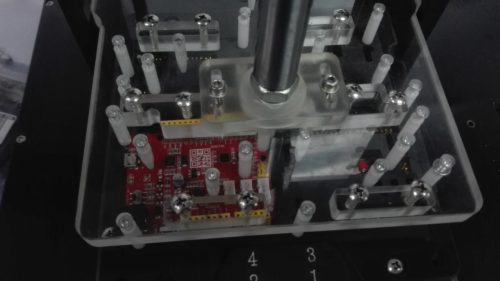 Step 5) We've implemented a time monitor system and a tablet which displays relevant information at each of our stations that help us to track the time and the efficiency of our process. All the defects will be sent to our engineers automatically, allowing them to solve the problem quickly to reduce the down time This allows us to guarantee the manufacturing time without sacrificing either quality or cost.
As you can see from above we have greatly improved our manufacturing efficiency which allows us to reduce our price. However, that wasn't enough to lower the cost of the Seeeduino to just $6.90 – we also had to reduce our BOM cost.
We have an efficient supply chain system that has enabled our BOM to be reduced greatly. We are based in Shenzhen and have been working in the industry for almost 10 years in this time our supply chain has become flexible and reliable without a decrease in our quality. A good supply chain is quite crucial in the whole process and we have the advantage.
Of course we cannot ignore the impact our agile manufacturing has on the price. As explained above Seeed has a very advanced assembly factory with a real time monitoring system and automated machines to make good use of every second and every component.
We have a high performance SMT (surface mounted technology) line to build this product; the MVA (manufacturing value add) cost is lower than building from traditional CEMs (contract manufacturer).
This leads to a question: How can you take advantage of our improved supply chain and manufacturing? Use us!
You can order a $6.90 Seeeduino at our Seeed Bazaar. You can also customize YOURduino through our Fusion service, Seeed Fusion Service offers one-stop prototyping service for pcb fabrication and assembly and other electronic and mechanical customized services like CNC Milling, prototype 3D Printing, PCB Layout service. All the parts in Seeeduino have been included in the OPL and you can enjoy discounted prices by sharing our supply chain system. Our set up fee is only $25. We have a special offer for orders over 1,000 units. If you are interested in large orders please contact us at fusion@seeed.cc.