HiFive Unleashed Expansion Board: Ready to Build Your Linux Development Workstation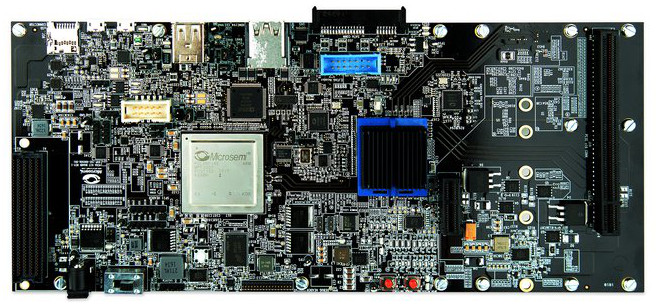 Microsemi and its board manufacturing partner Pactron have gone to Crowd Supply to launch an FPGA add-on board for SiFive's RISC-V based HiFive Unleashed SBC. The open-spec HiFive Unleashed Expansion Board adds PCIe root port capability to SiFive's Linux-driven SBC, letting developers add PCIe cards for graphics, storage, audio, network, keyboard/mouse, and more. USB ports provide further expansion for the USB-deprived HiFive Unleashed, which runs Linux on a RISC-V based Freedom U540 SoC.
The board is driven by its PolarFire FPGA. Microsemi has selected an upper mid-range PolarFire MPF300T part with 300K Logic Elements (LEs), as well as a soft IP block that includes RISC-V support. The FPGA is provided in an FCG1152 package.
The board comes pre-programmed with a chiplink to PCIe Root Port bridge enabling easy connectivity to PCIe add in cards. The board also has additional expansion capabilities for bit streams yet to come.
300K logic element, low power PolarFire FPGA
24 lane PCIe Switch
x1 PCI Express card connector
x16 PCI Express card connector with four lanes of PCIe gen2 connected
SSD M.2 connector
SATA connector
HDMI connector
eMMC Nand Flash
uSD card slot
USB to Uart bridges
4 Gbit DDR4 x16
SPI Flash for remote FPGA updates, QSPI Flash connected to GPIO
Two CAN transceivers
FMC connection to HFU540-4A00 kit
The PCIe support makes it easier to build a fully configured RISC-V PC.

Please, refer to the Crowd Supply page for purchase.