Flight Chair: Interactive Chair to Control an Emergency Service Drone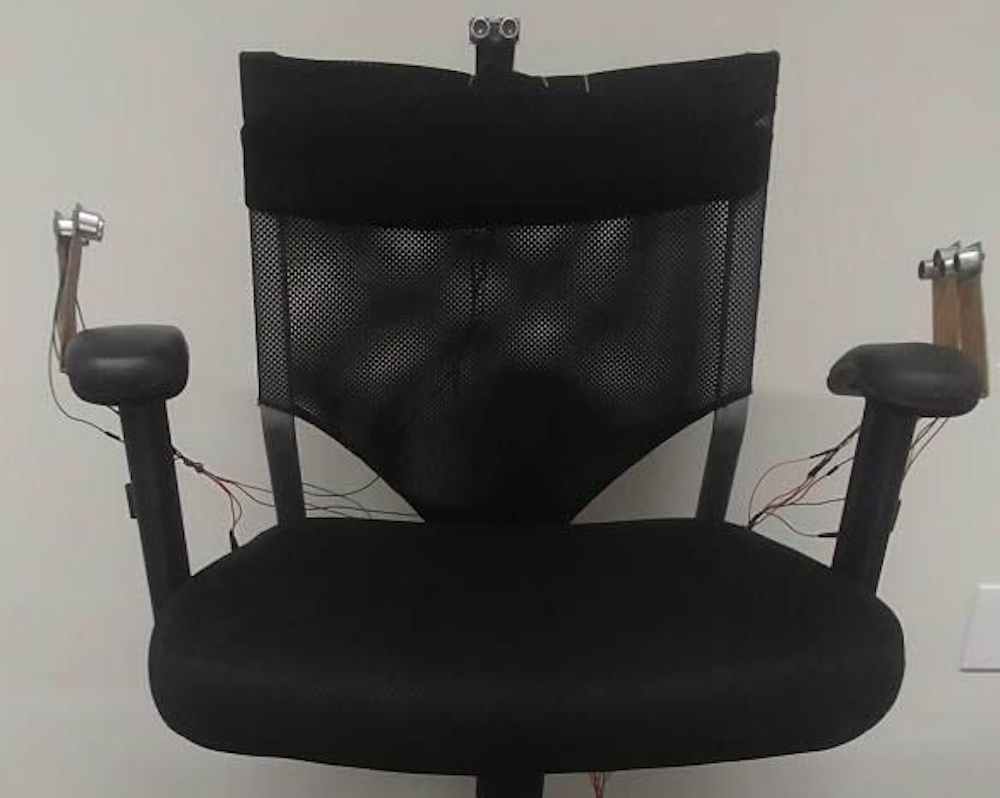 Created by a research team at Simon Fraser University in Canada, the Flair Chair is an interactive chair born from the idea of a drone being controlled by an emergency call taker using embodied interaction on a tangible chair. Researchers explored the possibilities of allowing drones to assist 911 like emergency call takers by transmitting/ reporting the emergency situation facts in a  more realistic and factual manner.
A drone could quickly fly to the scene of an emergency and send video back to a 9-1-1 call taker. This information could then be shared with first responders such that they could better prepare to support an emergency.
The chair is augmented with ultrasonic sensors to detect when a user leans forward, backward, left, and right, commanding the drone to do the same, while a gyroscopic sensor detects when the chair is swiveled to adjust its heading.
Altitude adjustment is handled by a T-shaped foot panel, leaving one's hands free to do other tasks. Sensor values are collected by an Arduino Mega, which passes this to a drone server over a USB connection.

In future, emergency services will increasingly use technology to assist emergency service dispatchers and call taker with information during an emergency situation. One example could be the use of drones for surveying an emergency situation and providing contextual knowledge to emergency service call takers and first responders. The challenge is that drones can be difficult for users to maneuver in order to see specific items. In this paper, we explore the idea of a drone being controlled by an emergency call taker using embodied interaction on a tangible chair. The interactive chair, called Flight Chair, allows call takers to perform hands-free control of a drone through body movements on the chair. These include tilting and turning of one's body