Evezor, the Open Source Manufacturing Platform for all your needs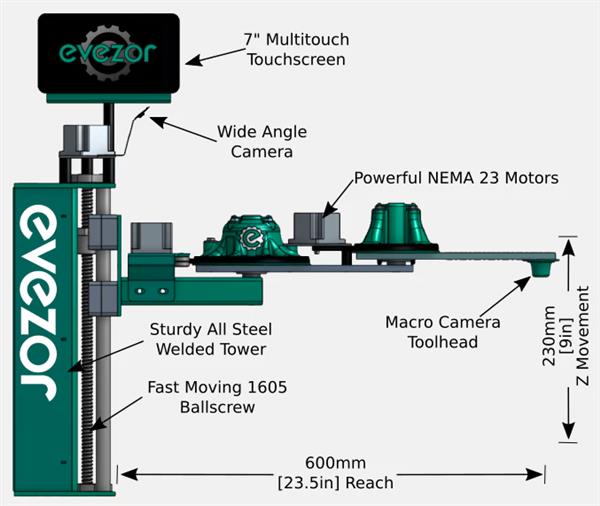 A developer based in Chicago has created a new open source robotic arm and manufacturing platform called Evezor which is capable of taking you from prototype into production and offers a variety of different skills: 3D Print, Weld, Cut, Assemble, Pour, Carve, Mill, Draw, Pick, Place, Engrave and more.
Described as the "most hackable robotic arm there is," the Evezor manufacturing tool is available through the Kickstarter campaign starting at $3,162.
Creator Andrew Wingate explains more:
"When starting this project I never envisioned finding myself here. I was just building a tool that would help me make some other idea I had, an insignificant medium, a stepping stone.  When I realized what I had discovered I knew I had to share it with the world

Evezor takes you from prototype to production. 3D Print, Weld, Cut, Assemble, Pour, Carve, Mill, Draw, Pick, Place, Engrave and More! Evezor (ee•vez•or) is a tool for dreamers and creators to build, make, invent, and do things they've always been told wasn't possible. It's for people who know they have a great idea and wish to share it with the world. It's for people already in industry finding themselves unable to compete in our newly globalized world. It's for our belief in the return of the artisan and the production of labor intensive goods can become local again."
What Wingate is promising to deliver through Kickstarter certainly sounds up to the task. Powered by a Raspberry Pi, the Evezor boasts a 64bit ARM Quad Core Processor, 1 GB of RAM, four USB 2.0 ports, HDMI Out, as well as 10/100 Ethernet, WiFi, and Bluetooth low energy connectivity.

From a hardware perspective, Evezor's welded tube tower and steel skeleton provide it with the strength it needs to accommodate a wide range of tool heads (weighing up to six pounds), while a set of NEMA 23 motors enable accurate control and a low-noise level of operation. Additionally, with a variable wingspan of 800 mm, the manufacturing tool is well suited for both small and large-scale projects.
Wingate has emphasized the open source nature of his multi-purpose platform.
He says: "We plan to democratize manufacturing and that's why we're open source. With open source software and open source hardware, we are able to provide a fertile platform to build your dream."
If you're interested in checking out the modular manufacturing platform, you can check out the Kickstarter here.