DVB-T2 TV Streaming HAT for Your Raspberry Pi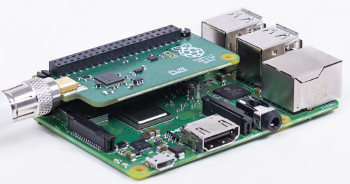 Raspberry Pi Foundation has officially announced the Raspberry Pi TV Hat, with a Digital Video Broadcast (DVB) tuner that receives terrestrial TV signals, on sale now at $21.50. It lets you stream DVB-T2 and DVB-T video in the UK and Europe.
Any Pi with a 40-pin GPIO connector can use the TV HAT to act as a server that streams DVB-T2 terrestrial video signals over WiFi or Ethernet to devices such as smartphones or desktop computers. If you have a Raspberry Pi 2, 3, or 3+, however, and add an antenna, there's enough decoding power –- software-accelerated H265 at 1080p30 — to let you watch TV directly on an attached display.
The HAT ships with a Sony CXD2880 TV tuner, 40-way header, mechanical spacers, and an aerial adaptor. The TV HAT can decode one mux at a time, and each mux can contain several channels.
The Raspberry Pi TV HAT supports the following frequencies:

DVB-T2 (1.7MHz, 5MHz, 6MHz, 7MHz, 8MHz channel bandwidth)
DVB-T (5MHz, 6MHz, 7MHz, 8MHz channel bandwidth)
Reception frequency: VHF III, UHF IV, UHF V
With this new Raspberry Pi TV HAT debuts also a new HAT form factor called the half-size HAT (or μHAT), that matches the dimensions of the Raspberry Pi Zero boards.
The Raspberry Pi TV HAT follows a new form factor of HAT (Hardware Attached on Top), which we are also announcing today. The TV HAT is a half-size HAT that matches the outline of Raspberry Pi Zero boards. A new HAT spec is available now. No features have changed electrically – this is a purely mechanical change.

The TV HAT has three bolt holes; we omitted the fourth so that the HAT can be placed on a large-size Pi without obstructing the display connector.

The board comes with a set of mechanical spacers, a 40-way header, and an aerial adaptor.
Please visit the official announcement page for more information.