DIY Open Source Submarine Drone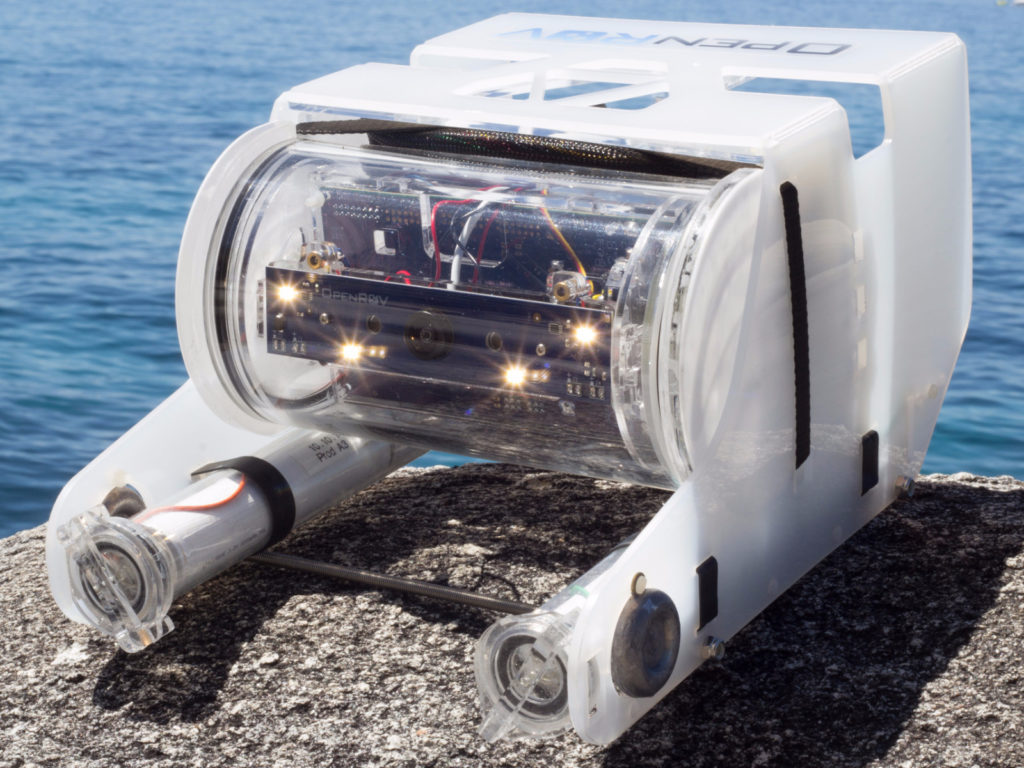 Trident is a multipurpose open source submarine drone. It's ideal for:
Boating and fishing –  Deploy in seconds to see what's underwater; inspect props, rudders, hulls, and anchors; find fish better than a fish finder
Diving  – Scout and find dive sites; explore up to 100m and more technical locations using Trident; stream live video to friends who can follow along on your dive from the boat; dive masters can keep an eye on everyone from the boat
Explore – Easy, fast, and fun; capture beautiful video using Trident's underwater-optimized HD camera; share video with friends; join a community of explorers who share the same curiosity for the underwater world
Marine Science – Upgradeable and expandable to meet the needs of your projects; Trident has a mounting standard for new instrumentation, modules, or payloads; Trident communicates with peripherals through a standard wireless protocol; open-source license allows developers to extend the software
Everything you need to pilot your drone is just a web browser and a laptop, tablet, or smart phone.
Trident is designed to be able to add new sensors, instruments, and payloads. The software that powers Trident is a live open-source project. Thanks to the ocean-loving community, you can find all the software and hardware files online as well as a vibrant and enthusiastic community to share adventures, ask questions, and meet other people with passion for exploration.
The Openrov 2.8 starter kit is already available: Beaglebone Black and Arduino MEGA microprocessors provide a flexible and powerful developer platform with dozens of input/output channels and plenty of computing power for user-designed features and experiments

Full specs here:
Physical specifications:
–          Weight 2.6kg
–          Dimensions 30cm long x 20cm wide x 15cm high
–          Nominal battery life using rechargeable lithium batteries is 2-3 hours (depending on use)
Performance specifications:
–          Maximum depth 100m (328ft)
–          Maximum tether length 300m (100m tether provided)
–          Maximum forward speed 2 knots
–          LED brightness 200lm
–          Temperature capability -10C to 50C
–          Software controlled camera tilt (+/- 60 deg from center)
Instrumentation:
–          HD Webcam (120 deg FOV) with audio
–          Red Scaling lasers (parallel, 10 cm separation)
–          Current and voltage protection with feedback to ensure proper system function
–          External I2C bus with 3.3V power for external instrumentation
–          6 additional auxiliary wires for user-defined external instrumentation or devices. One power PWM channel and one servo control channel are preconfigured.