DIY an Arduino-Powered 3D Printed Weather Station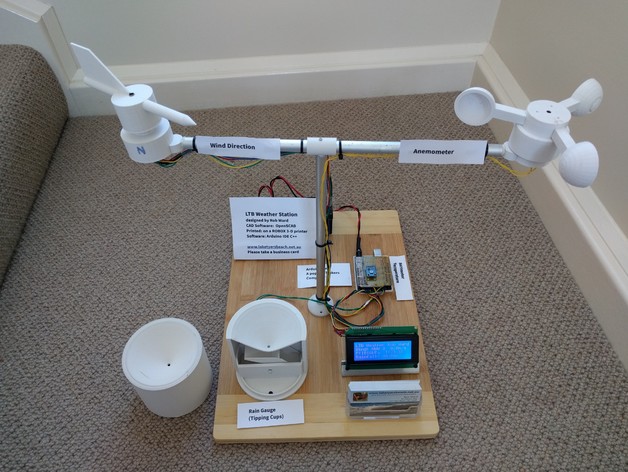 In this project, the maker RobWLakes has designed every part of the weather station in OpernSCAD, printed out, and combined with simple reed switches and magnets to turn them into functional pieces of hardware.
For example, the wind vane uses eight reed switches and an embedded magnet to communicate the current wind direction to the Arduino Uno which handles the user interface. Wind speed, on the other hand, it done with a single reed switch as it just needs to count rotations to calculate speed.
"The system also has the Arduino program included to illustrate how the the weather station can be interfaced, processed and results displayed. The Arduino program, as it stands, does not provide any definite calibration for rain and wind speed (if it is accurate, that has happened only by chance :-). Wind direction, Temperature and Barometric pressure are accurate. If you build it, and use my Arduino program, you will have to spend some time calibrating wind speed, and fine tuning rainfall."
Only for the barometric pressure the maker has used an off-the-shelf barometric pressure sensor.
For sure the clean look of the final version, the completely open nature of the OpenSCAD source, and the low part count make this an extremely compelling option for anyone looking to up their home forecasting game.