DIY an Amazing Arduino Mega-Controlled Electromagnetic Organ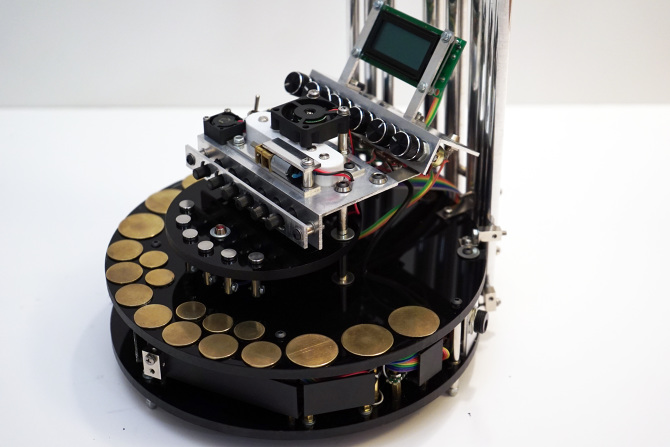 Moscow-based media artist Dmitry Morozov has created his electromagnetic/electromechanical organ by combining three small motors with a guitar pickup and a touch keypad: it's called Motorgan.
Motorgan uses two differently sized PC cooling fans, as well as a gear motor to produce various sounds. A separate keypad is used for each motor, and each of the 24 keys can be tuned with a potentiometer, which reportedly allows one to make any kind of music.
Motorgan is an electromagnetic/electromechanical organ based on 3 dc motors of different size. The speed of each motor is controlled by voltage changes via touch keyboard with 24 keys. Keyboard is split into 3 parts (registers) for each motor, so it's possible to play chords/polyphonic lines by taking one note from each register.
As you might suspect, it's not exactly an easy instrument to play, but the results are certainly stunning.
All you need for this project is listed below:

– 3 dc motors (2 PC pc cooling fans and 1 motor with gears)
– arduino mega
– single guitar pickup
– 24 keys touch keyboard
– 6,3 Jack output.
– digital voltmeter for tuning
– 24 potentiometers for voltage control