C-Sky: a $6 Linux Development Board with HDMI and USB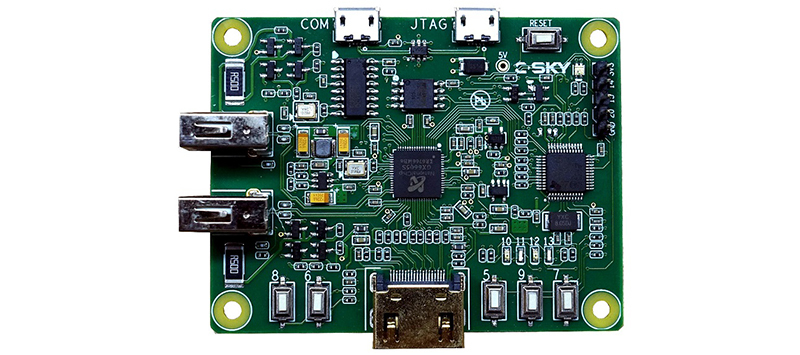 Hangzhou C-SKY Microsystems Co has launched a development board that runs Linux on a CK610M SoC. The C-SKY Linux Development Board sells for 39-40 Yuan ($5.60 to $7.05) on Taobao and $19.50 to $21.50 on AliExpress.
This board is based on a NationalChip GX6605S CK610M SoC, a unique chip with an ISA that isn't ARM, x86, RISC-V, MIPS, or anything else that would be considered normal. The CK610M model featured on the new dev board is the only CK610 model with an MMU, a key feature required to run Linux. The CK610 also features a DVB-S2/S demodulator.
The SBC provides an HDMI port for up to HD resolution via H.264. Dual micro-USB ports support JTAG debugging and 5V/1A power with UART console, respectively. A 5-pin header offers 3.3V, GND, and 3x GPIO, and you get a reset button and several user buttons and LEDs. The Linux 4.16 based firmware uses buildroot with uClibc-NG.
C-SKY Linux development board key features and specifications:

SoC – Nationalchip GX6605S C-SKY ISA V1 CK610M 32-bit processor @ 574 MHz with 64MB DDR2 RAM, built-in DVB-S2/S demodulator
Storage – 4MB SPI flash for bootloader and media player program
Video Output – HDMI output up to 1080p; framebuffer resolution (for UI): 1280×720
Video Playback – H.264 up to 1080p
USB – 2x USB2.0 host ports
Expansion – 5-pin header with 3x GPIOs, 3.3V, GND
Debugging

JTAG via XX32F103C8T6 USB-JTAG chip (micro USB port)
UART console via CH340g USB-UART chip (micro USB port)

Misc – 5 user buttons, reset button, 4x LEDs
Power Supply – 5V/1A via micro USB port (JTAG or UART)