Blyst Nano is a Finger-tip tiny Bluetooth 5 board with 30 I/O pins and more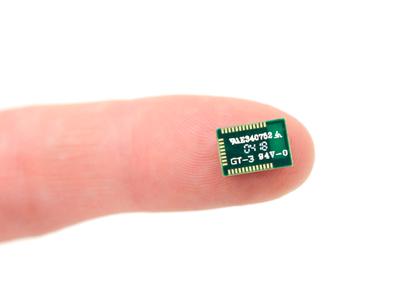 BLYST Nano is a new tiny ARM Cortex-M4F module which has been created offering Bluetooth 5.0 connectivity, Bluetooth Mesh and 30 input and outputs. The module is now available to purchase on crowdsupply priced from $17 with free shipping throughout the US included for worldwide shipping available for an extra $8.
With a design based on the Nordic nRF52832 SoC, combining a low power 64 MHz ARM Cortex-M4F and the 2.4 GHz radio in a single chip, the BLYST Nano SoM (System on Module) is the perfect way to catch this new Bluetooth IoT wave driven by both Bluetooth 5 and Bluetooth Mesh.
BLYST Nano Module Features
Built-in ceramic antenna
Built-in coils for low power DC/DC mode
Built-in 32 MHz & 32.768 MHz crystal for low power
Dimensions: 10 x 7 x 1.6 mm
No extra PCB spaces or any external components required on users' application board
All I/O pins of the nRF52832 are exposed to pads around the edges of the module to take full advantage of the nRF52832 and for easy assembly without compromise
FCC & CE certified

nRF52832 Features
Single chip, highly flexible, 2.4 GHz multi-protocol SoC
32-bit ARM Cortex-M4F Processor
1.7 V to 3.6 V operation
512 kB flash + 64 kB RAM
Supports concurrent Bluetooth low energy/ANT protocol operation
On-chip NFC tag for Out-of-Band (OOB) pairing
Up to +4 dBm output power
-96 dBm sensitivity, Bluetooth Low Energy (BLE)
Thread safe and run-time protected
Event driven API
On air compatible with nRF24L and nRF24AP series
2 data rates (2 Mbps/1 Mbps)
PPI – maximum flexibility for power-efficient applications and code simplification
Automated power management system with automatic power management of each peripheral
Configurable I/O mapping for analog and digital I/O
3 x Master/Slave SPI
2 x Two-wire interface (I²C)
UART (RTS/CTS)
3 x PWM
AES HW encryption
12-bit ADC
Real Time Counter (RTC)
Digital microphone interface (PDM)
According to I-SYST, the company behind the Blyst Nano, this technology can be integrated into a myriad of projects, including wearables, remote sensing, building/home automation, and a host of others.