BitBarista, the Autonomous Pi-Powered Bitcoin Barista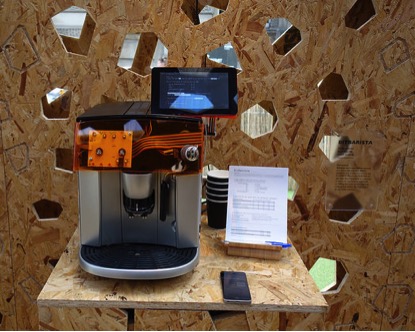 BitBarista is an autonomous coffee machine, designed to function with the minimum of human supervision. Physically, it is a Delonghi home coffee machine under the control of a Raspberry Pi.
Built by a team at the University of Edinburgh's Centre for Design Informatics, the BitBarista coffee machine accepts Bitcoin for the coffee. Further, it can pay out Bitcoin to people for performing maintenance tasks to keep it running…as refill coffee or cleaning it.
The attached Pi enhances the machine in various ways, allowing it to read signals from coffee machines sensors, controls its functions, and connect to the Internet. It is also fitted with a small camera to read smart codes, so it can make Bitcoin payments directly to customers' Bitcoin wallets.
 "The idea is that BitBarista becomes semi-autonomous, trading with customers to take care of its own maintenance requirements" the Centre for Design Informatics, of the University of Edinburgh, said.
You can find everything you need at the related Github Page.