Barilla 3D Printed Pasta: less than 2 minutes for a nice dish!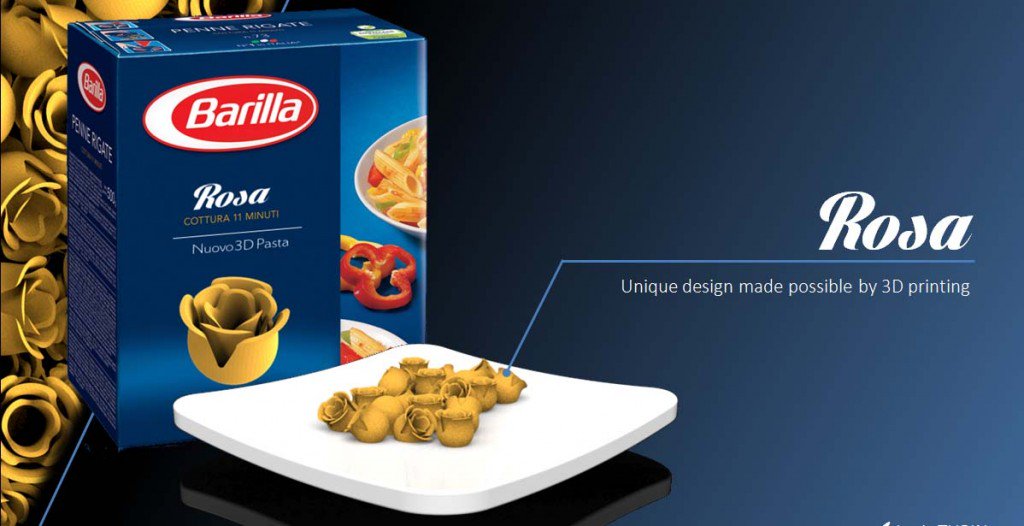 On December, 2014 Barilla launched a contest to get ideas about new 3d-printed pasta:
More than 530 international product designers from more than 20 countries took up the challenge, producing 216 design concepts to be evaluated by a team of experts tasked with assessing the originality of the products.The winners each received a cash prize of €800, and they were:
Rosa Pasta from Loris Tupin, a French industrial designer from Maxilly sur Léman, is a 'bio-dynamic' 3D model that 'blooms' to turn into a rose when placed in boiling water.

Vortipa by Danilo Spiga and Luis Fraguarda, a product design team from Cagliari, Italy. Their pasta was based on the vortex pattern progression system and it looks a bit like a Christmas tree.

Lune, by Alessandro Carabini, an Italian product designer who works in collaborative Studio Abaco in Paris, France, submitted a full moon with craters, and he says it will "improve the interaction between pasta and sauces."
At that time, it took more than 20 min to have a dish printed. Nowadays, thanks to a partnership with TNO Eindhoven, Barilla is close to print 20 pieces of pasta every 2 minutes, so they are near to pasta on-demand printing!
In a close future, we will have our pasta printer at home, purchasing pasta cartridges and the 3D design of a new "spaghetti" from Barilla…

Sources: