Accelerate Innovation in the Country of Hardware Design: Industrio Ventures
As you may know already, hardware incubators and accelerators are growing in numbers almost worldwide, in line with a growing interest in the hardware business. The value provided by Hardware accelerators and incubators can be hardly underestimated: indeed Hardware is a complex business and being able to access to knowledge, relations and knowhow related to how to go to manufacturing, manage and optimize a bill of material, or manage a third party are definitely a plus.
In parallel, the italian Makers and Hardware developers scene is strongly growing and Italy's history in product design (and design in general) is making Italy a hot spot for hardware innovation and projects such as the well known Arduino, FABTotum or OpenPicus FlyportPRO are here to witness this maturation.
With this premise in mind we decided to reach out to the founders of Industrio Ventures, a newly born Hardware Startup accelerator in Trento, Italy. More in details we interviewed Jari Ognibeni, its 31 years old, co-founder and CEO.
Jari is an Economics graduate with an international background who studied in Portugal, USA and Brazil. Jari has always been attracted by entrepreneurship and "the idea to make something happen" as he says, "to create something new". With this interest and passion in mind, Jari first became an entrepreneur and now an investor. Jari doesn't like the word "investor" though as he prefers to be treated like "a co-founder, a co-entrepreneur, that support a team to make their vision happen". Definitely nice point of view.

Jari has a long history of family business, this is a common trait of many Italian entrepreneurs: "my father and his father before has been more than makers because they transformed passions and hobbies into business and new ventures" and that's definitely a cool heritage for those wanting to start a business at today, in the age of the makers.
The story about how Industrio ventures was born is pretty clear and common I guess: "I made a business trip in California last year, with a group of Italian fellow entrepreneurs. After a lot of meeting we have also visited several startup accelerators and then, while flying back to Italy we decided to create one ". Later on, the problem clearly become: "how could we create something like that in a totally different ecosystem like the Italian one? That's when we decided to focus on what we know best: hardware technology and industry applications".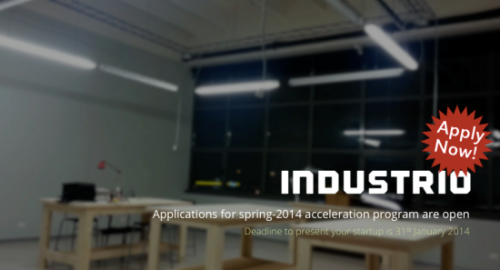 Industrio next application, closing in spring 2014, is online (here http://www.f6s.com/hardwareacceleratoritaly-spring2014 ) and the guys will soon release new partners and perks for selected teams. Spring-2014 program will also provide teams with accommodation in Trento. It really seems an opportunity that you can't miss. To know more about Industrio strategy and vision, just read this amazing interview with Jari.

---
[Simone Cicero]: What's your vision of the role of an hardware incubator? I mean, what kind of support services should the incubator provide to the incubated startup?
[Jari Ognibeni]: At Industrio, we offer three simple ingredients: capital, mentorship and a lot of tools and machines to prototype. We are the new generation of a "bottega" (small workshop) where apprentices/startups can find everything they need to nurture a new idea of product and business and let it become their life.
An hardware incubator needs to provide an incredible mix of hard and soft competences. The mix of the two makes the difference between a good or not so good incubator. We provide access to a 5M€ valuable infrastructure to startups thanks to our industry-partners. We provide access to a network of experienced mentors in the field of manufacturing, tech industry, electronics and prototyping. We invest and support startups with a seed investment starting from 50k€.
[SC]: At what stage should a startup apply to Industrio incubation program?
[JO]: We prefer to engage teams with a prototype or, how I call it, something ugly that just works. The first question I ask to folks I meet at Industrio is: "do you have a product? Show it to me!"
When you see a prototype or a first product version you can understand a lot about team commitment, their background and experience. Also in this phase is important to understand if the product you are evaluating is consistent with your investment strategy and vision.
Starting spring-2014 we'll create a calendar of, free access, hardware-workshops, that can help people with a hardware idea to make it happen and learn how to create a startup. And if the product is good, they can pitch to us and participate to our acceleration program. Hardware-workshops will be held at Industrio in Trento every 2/3 weeks starting March.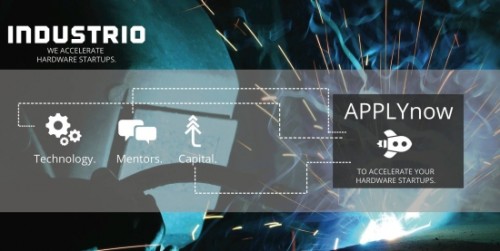 [SC]: Can you tell us a little more about the first batch of startups coming from recent funding rounds? What kind of products do they make? And, widening a little more the topic, thinking of the applications you received, can you tell us about particular patterns (recurring markets/products, recurring company structures, other aspects)?
[JO]: We received more than 50 projects in our first call of 2013. After a hard selection, we selected 3 startups. The first is MECCATRONICORE: they develop a unique bundle made by a 3D Printer (FDM) and a CNC that works in combination. Meccatronicore is "the Makerbot that works". The second,  MELIXA , creates a smart-hive that monitors bees activity and several environmental parameters. Finally SINPHONIQ is developing a portable device for skin disease detection thanks to a photonic sensor (advanced CMOS/vision technology). We invested in startups coming from sector we are interested in: Mechatronics, Agriculture, Digital Health technology. These are three industries Italy has a very strong track record and there's a incredible know-how, talent and companies.
Looking at all the applications received, I can surely define some kind of patterns. We see many coming from: Home automation, Wearable devices, Agriculture, Food processing and Industry automation (process) – in terms of industries . In terms of Teams structure and company maturity, we are talking of mostly not incorporated companies, average age 30+, Engineering background.
Most of the products are prototypes build in a garage, not validated on a customer base,  not yet ready to scale up and unpatented.
[SC]: We noticed your communications are mainly in English so, as we understand, you're targeting more than Italy: I can guess that you received mostly Italian candidates but, is there a relevant number of foreign startups applying? If yes are they targeting Industrio or Italy for a specific reason?
[JO]: Yes, we decided to have an international approach from the beginning. We received most of foreign applications from Eastern Europe. We want to attract people from around the world that understand the incredible value to be in the best ecosystem to prototype and create a hardware product. This is Italy and its industrial heritage.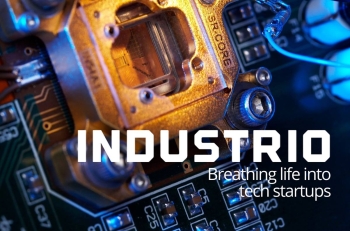 [SC]: Now a rather specific question: we know that crowdfunding, when it comes to hardware, has a relevant and specific role. Crowdfunding is in fact used more as a preorder strategy and a *crowdtesting* of product ideas. Don't you think that community validation works better than an "incubator" in validating and financing consumer hardware ventures? Are you targeting specific market niches that are prevented to validate ideas through crowdfunding (I mean, industrial hardware for example)? Or you plan to use crowdfunding as part of the strategy?
I love crowdfunding but I think this is part of the answer when you are working on a new product. Pre-orders on a target consumer base is great but is only 1% of the game; the 99% is made by product quality, certifications, shipping, manufacturing, customer service and of course cash flow management.
The most famous hardware products that made it to success thanks to crowdfuding platforms had to go to VC/Investors to find the resources to ship the product they promised to backers (Pebble, Ouya, Oculus,…).
I think community validation via crowdfuding is good, but in order to validate the right functionalities and promises of a product an incubator could be a great partner (of course if the incubator offers real mentorship and great value on hardware development).
In our program we created a specific module where our startups pre-validate a kickstarter campaign and work to create one. Kickstarter is an incredible platform that gives to whom developing a hardware startups a framework to create the right information and a bit of a structure. It also helps to focus on the supply chain of professionals and partners to eventually ship the product.
[SC]: What's your business/sustainability model? Do you have a standard equity for incubation plan?
[JO]: We give a 50k€ for a 15% stake in startups we invest. We can expect an exit or follow up investment starting the 6th month on. We accelerate startups for 6 months but after that, teams can stay in our space and use our tools with a monthly fee. Our aim is to transform a team with a prototype into a startup with a product in few months; and especially we want to see good entrepreneurs come out and that's why our approach is about supporting startups and not substituting them on daily operations and activities.
[SC]: Now another question that is pretty important for us: what do you think of Open Source and Venture capital and Angel investing? Is your incubation program open source friendly or are you skeptical with companies that build their business on top of open access to schematics and software?
[JO]: I'm concerned about finding a good team with a great vision and a big challenge. How they validate this vision is not my job, and if open-hardware is the way: go for it! Open hardware is great to prototype and validate a product faster and cheaper.
[SC]: A good answer indeed.
If you liked the interview, you should follow Simone Cicero – @meedabyte, @OpenElectronics and @Industriofund