3Doodler 2.0: one of the most funded of all times on Kickstarter
By
Staff
on July 18, 2015
Doodler is an awesome project funded on Kickstarter. It has collected $1,5M respect to the $30,000 requested and it has become a commercial most wanted product!
Doodler 1.0 version sold more than 130,000 pieces, so the company decided to launch the 2.0 version again on Kickstarter, where all has began two years ago.
When we first launched 3Doodler we asked the world to imagine a pen that you could literally lift off the page to create real three dimensional objects; a pen that put the power of a 3D printer in the palm of your hand.

Two years later, we've made the world's best 3D printing pen even better, with a new version that's slimmer, lighter, quieter and even easier to use.

Since we first showed the world that drawing in 3D was possible, we have sold over 130,000 3Doodlers. Our community has been using their 3Doodlers to create amazing things, going far beyond even our wildest expectations: from jewellery, to fully 3Doodled remote control planes, 3Doodled dresses, architectural models, and even writing braille! The creative possibilities are endless (and at times a tad unusual too!).

So just like the Backstreet Boys, 3Doodler's back, alright!

It was thanks to the support of the Kickstarter community that we were able to make the 3Doodler dream a reality. It was also here on Kickstarter that we began the process of building a vibrant community of artists, makers, designers, educators, as well as others eager to lift their imaginations off the page. Doodle by Doodle you have pushed the boundaries of 3D art and creation and inspired us further!

To say a big thank you for all of your help and inspiration, we decided to come back to the place where it all began, and bring 3Doodler 2.0 to you first! We are eternally grateful for all the support you gave us the first time around, and want to give you first dibs at creating with the new 3Doodler. It's your funding that will help make this a reality!
If you're planning to start a Kickstarter funding campaign, study carefully how they managed to gather so much money!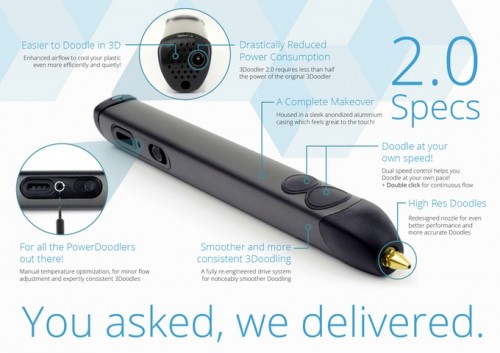 More on Kickstarter